There's a long time since the last time I wrote a travel journal. Recently I read the travel journal I wrote during my inter-rail (in Portuguese), and it made me laugh a bit. Remembering some details that I have forgotten is almost like living the trip again. And to go back to travel journals, I will start by talking about Viñales!
Before I went to Cuba I thought about writing travel journals, but how about being prepared for that? And that's what I did, during the whole trip I took notes not only about the places I visited, but also of my experiences.
First impact in Cuba
Still at Havana Airport…
After a long trip since Dublin, passing via Amsterdam, I was finally in Havana! It was a mix of a lot of excitement, and those butterflies in my tummy of what could happen during those two weeks alone.
Still inside the airport I did the huge mistake of unsetting the airplane mode. I received a notification from facebook, which I ignored, but since I had data I decided to give some peace of mind to my parents and boyfriend. One message to each of of them. I arrived, I am okay! Five minutes later I receive a welcome to Cuba message from Vodafone. I have reached the limite of 60€ in roaming data. That's what you pay for being spoiled in Europe without roaming, you don't even remember the insane price you might pay for a few kilobytes of data…
I wouldn't let those 60€ spoil my trip. After all, I was still inside the airplane, for all I was in international space until I passed through passport control!
On my way to the passport control I started feeling a bit of experience I've heard about Cuba. An old airport, without modernities. And passing through the passport control was really relaxed, they were really welcoming.
I was welcomed by someone hired by the casa particular where I would stay, he helped me finding the Foreign Currency Exchange Desk to exchange euros by CUCs, the tourist pesos, and then he took me to the taxi. At the parking lot I saw loads of old cars. That was the Cuba I saw in photos!! But how about my taxi? And old 9 seats van, just for myself, without seatbelt!
That was the moment I felt like a spoilt kid who isn't used to travel without modesty. But I put that aside, and I enjoyed the views until I reached the casa where I would stay.
First hours in Havana
Something that made me feel a bit unhappy, and that I couldn't ignore, was the smell of pollution. Due to the embargo by the United States, the Cuban people haven't been able to purchase newer cars. The importation taxes are way too high, and they simply can't invest in a brand new vehicle. Due to this, the smell of pollution directly from the cars is too evident, and as a hillbilly, that was something that made me feel unhappy. Not disappointed, but unhappy.
As soon as I arrived at the casa particular I was introduced to another two guests, one from Gana or Gabon, I am not sure now, and another one from… PORTUGAL! A Portuguese guy who lives in Ireland! Okay, Northern Ireland, but still the same island as I!
We did chat for a bit, until they had to leave and I went for dinner. Since I was tired from the trip I went directly to a place recommended by the casa's host. He warned me that it wasn't that great, but that it was good enough to be fed… And he was right. It wasn't great. I ate spaghetti bolognese, though by the looks of it, probably it was reheated. And the meat had some really odd brownish color… But I was starving, and I ended up eating everything. Accompanied by a beer. With that, I ended my non-alcoholic streak of 4 months!
Then back to the casa to sleep, the next day I had more travels to do. I only stayed the first night in Havana because I had to, but I didn't even have time to explore anything. The following day I went straight to the second stop of my trip!
And that was my first day of two weeks in Cuba!
From Havana to Viñales
I felt an amazing feeling of nostalgia when I woke up! Okay, this might sound odd, but I will explain… Even though we were in the middle of the city, I woke up with the sound of doves cooing! Like I said before, I am a hillbilly. Waking up with the sound of roosters, pigeons, doves and other birds was part of my childhood. It is odd that I never noticed how much I missed waking up in the middle of Nature, until I woke up with the sound of doves cooing. And again, this was in Havana! Cuba is a really special place, and I noticed this during the two weeks I traveled around Cuba.
Unlike what I've been told before I went to Cuba, and from what I found online, there is internet in Cuba. But the system is a bit inefficient, we need to buy a card that will allow us to have internet for one hour, but only in some certain hotspots in the city. I woke up early, and I decided to buy one of these cards, though I wasn't lucky. They were sold out already. And that's something that also happens often, some people exploit this as a way of business, so that they can resell it twice as much. Everything counts to make money in Cuba…
Back to the casa particular, and waiting for the taxi to Viñales. The cheap way to travel in Cuba is using taxis colectivos (carpooling taxis), there are several preset routes and it can be cheaper than traveling by bus. My trip of 30 minutes from the airport to the casa particular was way more expensive than my trip of about 2 hours to Viñales!
The trip from Havana to Viñales was quite relaxed, I met a french couple and we talked a bit during the trip, but not much. I was quite tired, they were tired too, and we only talked a bit at the start and when we had our mid-trip stop to eat.
I was the first one to be dropped out by the taxi, and I didn't see them again in Viñales. Even though it is a small town, there is a lot of do, so it ends up being considerably easy not to see the same people again.
Taxi trip in Viñales
I was introduced to my hosts right away, and another couple that was also staying there. Really nice family, always helpful, they helped me to decide what to see, and in less than an hour I was already inside another taxi to explore Viñales. No time to waste!
I tagged along with the other couple that was staying at the casa, a dutch couple who couldn't speak a word in Spanish. I ended up being their interpreter for the whole day.
The Indian Cave
The first stop was at the Indian Cave. It is a quite popular place, not just for tourists but also among Cubans. When we arrived we wrongly thought we would be the only ones visiting the cave, no one was waiting outside. After we paid, we got inside the cave with a guide and a few other people, and for a few meters we were just admiring that not so special cave.
I have to confess that I was a bit disappointed, until… there was a queue inside the cave… A queue so big we couldn't even see the end of it, though, considering how caves are, it is hard to see where anything ends, at all.
Queuing felt like hours, though I think we queuer for about one hour, and for that hour there wasn't much to enjoy. But the wait made me feel even more curious about what was coming next. According to the taxi driver, we would be on a boat inside that cave! Yes, that was the goal of that tour, a boat trip inside a cave! And of course, such activity attracts a lot of tourists, and on a Sunday, also loads of Cubans.
At some point, when we could already see the water, I heard someone speaking Portuguese from Portugal! Two days in a row and I get to meet two Portuguese people! After so many trips, where meeting a Portuguese person is rare, on my first two days in Cuba I met two! Obviously, alike myself, he was also there for the boat trip. But since I was ahead of him, I couldn't chat much as it was almost my turn to get on the boat.
After about one hour of waiting, we finally got on a the boat for a trip that lasted just a bit longer than 5 minutes. The river can reach depths of 6 meters in some parts, and it goes more than one kilometer inside the cave. Not all navigable due being so narrow for a boat to pass.
The experience is okay, it's interesting to be on a boat inside a cave and see the stalactites, but the best is really getting out. Being on a boat inside a cave and seeing the outside brightness is really cool! However, Lonely Planet describes this experience as "underwhelming". And I fully support this feedback.
The Mórons Cave
The next stop was the Mórons Cave, and according to the taxi driver it was just a small cave, though with entrance fee at the restaurante. Which was at the entrance, kind of already inside the cave. Unfortunately I wasn't aware of what that was about, and I trusted his feedback. Later, while researching, I found out that that's just the biggest cave system in Cuba…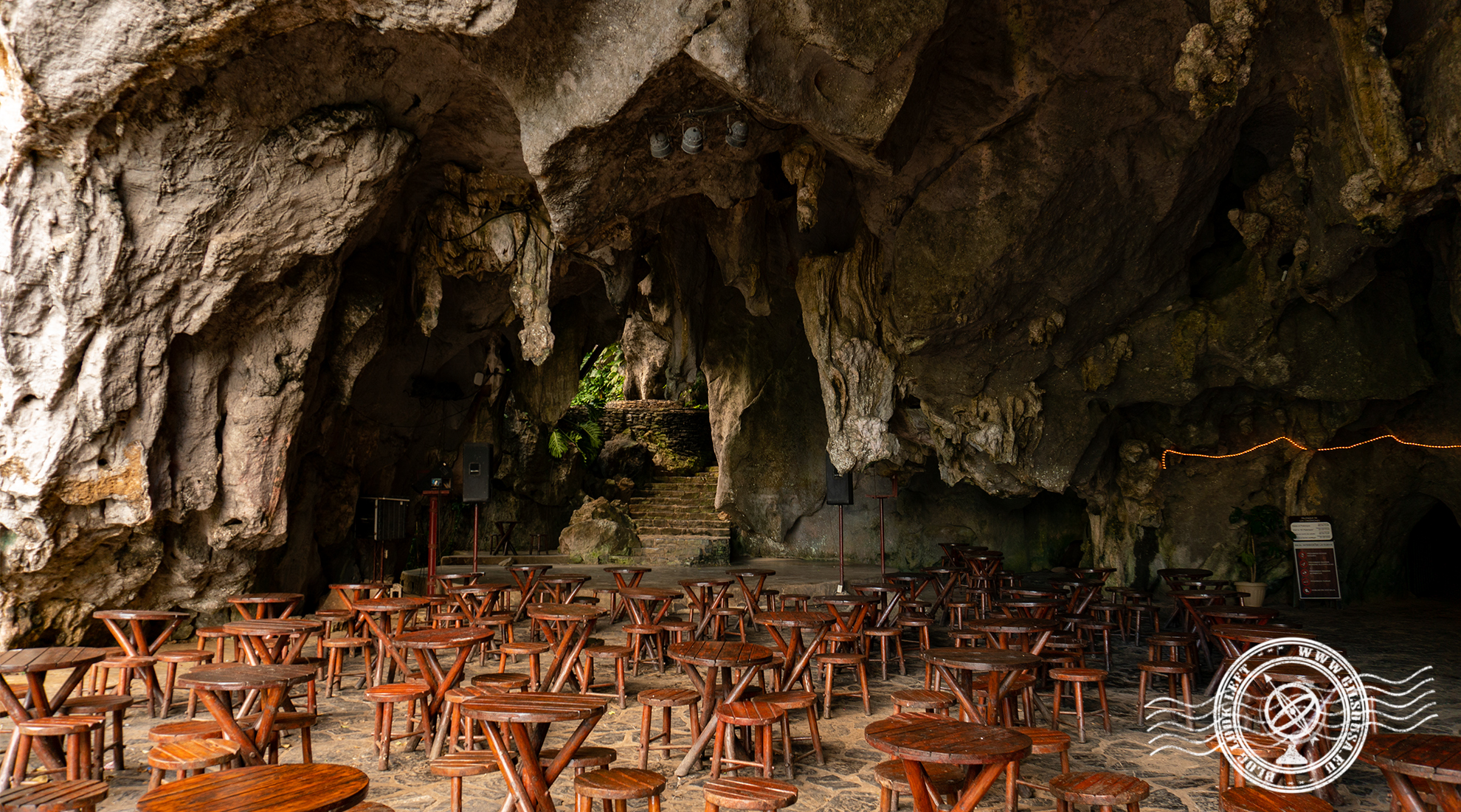 We wouldn't have the time to explore the cave properly, since we started our tour after lunch. Even though, I really regret not researching about this before going to Viñales. And this time I actually thought I had prepared myself…
The Prehistoric Wall
And back to the taxi to see another sightseeing place, excellent place to take money from tourists. The Prehistoric Wall. Once again, the taxi driver helped us saving a few CUCs, and this time I really appreciated the gesture. It is an interesting painting, but nothing amazing. Simply a big painting on the wall of one of the Mogotes, with Evolution as a theme, from the Big Bang until the Human being. It is interesting for a few photos, which we took from afar, but nothing else.
The views over the Viñales Valley
The best part of the day was left until the end. We went to a hotel with a fantastic viewpoint over the Viñales Valley. The views from up there left me speechless, and my camera filled with photos!
And it was in that hotel where I managed to buy my first internet card. Stupidly expensive! 2€ for a card that was enough for just one hour of internet, and here am I acknowledging that my internet-detox wasn't successful in Cuba…
The tour ended at another hotel with a pool to see the sunset- Though that view didn't impress me much, nor it was the best place to see a sunset. And from there we walked back to the casa where we were staying.
At the casa I started chatting with the host's son, who is a doctor in Cuba. Cuba is leading in forming new doctors, and that's something that made them really proud. The medical conditions for local people are really good. He had as a goal to move to Brazil for a while, but according to him, the new Brazilian government ended the deal they had between Cuba and Brazil. He will stay in Viñales, though without a new goal to where to go next.
For dinner I followed Lonely Planet's recommendations, and I went to 3J for food. Really good! And the staff also really nice. There's a good reason why it is one of Lonely Planet's main recommendations.
Exploring the Viñales Valley
The third day was non-stop! As soon as I arrived in Viñales they showed me several tours and ways to explore the valley. Of course the majority of them were tours, but that's a way of business, which is completely understandable.
Again, I tagged along with the dutch couple, this time for a horseback tour through the Viñales Valley to see the tobacco plantations. It was my first time on a horse, and of course I was feeling a bit uneasy. They told me to just relax because the horses were in auto-pilot… And yep, that's what it happened…
Horse ridding through Viñales Valley
Our trip started on a horsecar taxi to the guide's house. He didn't speak a word in English, and the dutch couple very few or nothing in Spanish. Guess what? Yep, I was the group's interpreter again…
I was the last one to have a horse assigned to, we were introduced to the horses one by one. Each horse had a name related to some kind of cocktail. My horse's name is Mojito, with some grey shades and black spots. A horse with character, which made me feel uneasy and tense a few times.
As soon as we started, the guide let us go ahead. Almost alone. And yes, it looked like the horses were in automatic pilot, they knew where to go. Mine, however, I also knew what he wanted…, he took every single chance to stop and eat something…
At first I didn't know what to do, but the guide told me to pull hard, though I was afraid to hurt the horse. But after countless times, I had to start doing that to control him.
At some point he started in trot, without any apparent reason, and that scared me quite a bit. From a slow pace, I started jumping, without realizing what was going on! And the guide? Nowhere to be seen! He stayed behind to talk with someone… I have to say, it hurts a bit if you are not used to that…
Viñales' Tobacco Plantations
We passed through several kinds of plantations, beans, sugar cane and tobacco, until we arrived at the farm where they explained to us how tobacco is made. From seed to cigar. It is a really interesting experience, they explained to us all what they had to take into consideration during this whole process. And to add to all of that, all the restrictions they are conditioned to, since they are inside the National Park.
One of the reasons why we went on a horse to the tobacco farm was due to these restrictions. It is forbidden to use any kind of machinery, chemicals and everything else that isn't native from the park. Which means, if you visit Cuba it is like traveling back in time. And visiting Viñales is like going way before the 60s. Transportation? Horses! Even the plowing is being controlled by these restrictions, they must use cows and horses to plow the land, without any artificial chemicals. As well as the drying process and tobacco preparation, everything handmade.
When we arrived, the first thing they showed to us was where they dry the tobacco leaves. At that time of the year there wasn't much to see, only a big barn with several beams to dry the several tons of leaves. They also mentioned, really often, that the government taxes them with a fee of 90% of the collected tobacco, and that they always have someone controlling the production. The tax is really charged with the leaves themselves, which are collected and sent to the state factories. Which means, only 10% of what's produced goes to the farmers and their works. This also explains the high price they charge tourists for each cigar…
After showing us how a cigar is rolled, the person who was explaining it to us rolled a cigar right in front of us, just using 4 or 5 leaves. The final result was impressive! And he did that really quickly!
Like I mentioned before, artificial chemicals are forbidden, though they can use natural products. And the most effective comes from the tobacco leave itself. The main leave shaft contains about 80 to 90% of the nicotine, and that must be removed from the tobacco leave. That shaft is then used as a natural insecticide. It's a zero waste production!
The Viñales' Honey
Some trivia for those who are vegan, the Viñales cigars use animal products. Honey! They use honey for the leaves' fermentation, and to seal the cigars they also use honey. All of this because, like I said a few times, they must use natural products. Regarding the fermentation, honestly I don't know if that applies to all cigars or tobacco in general.
Even the honey in Viñales is special, made by a kind of bees that have their beehive underground. It requires someone with a lot of experience and knowledge to find these beehives. It isn't possible to domesticate these bees, and apparently they are unique from that area. They are stingless bees, therefore harmless. Though the honey is really rare, therefore, expensive…
However, in Brisbane I saw bees of the same kind, and the explanation was very similar. Underground beehives, stingless and small bees. Maybe a sub-species of the same family?
The honey isn't just used in fermentation and as a glue, but also to smoke! That was one of the things that surprised me the most. The correct way to smoke a cigar in Cuba (or in Viñales) is with honey! You moist the tip, the side that goes in your month, in honey. And then you smoke! They say it works as a natural filter, and that helps to keep your lips moisturized.
One thing is for sure, it tastes way better to smoke a cigar that way!
Another curiosity about the honey from the "underground" bees, according to what they told us, Che Guevara suffered from asthma, and that he used to say that this honey used to help him keep asthma under control while he was smoking.
The Viñales Valley Coffee
Still at the farm, they also told us they collect and prepare their own coffee. And of course, once again, without any kind of machinery.
The coffee plants only start producing what they call "good fruit" after 7 or 8 years, but around the mark of year 5 it is already possible to harvest beans. After harvested, they are sun-dried, the traditional way. This process is slow, which leads the natural sugars from the fruit to shape the coffee flavor to something softer. I actually tasted a coffee bean still as a fruit, in fact, just the very few juice you can get from that thin layer of skin protecting the bean. And yes, it is sweet!
After the skin dries, it is time to split it from the bean. For that they use something alike a giant mortar, that with its pressure splits the dry skin from the bean. And after that, it's time to roast it! And guest how? Of course, the traditional way. Using a wood oven!
Pinar del Rio Rum
And to finish our tour to the farm, they gave us to taste a rare kind of rum that is also made in the traditional way. For this rum they use a fruit that only grows in Pinar del Rio area, the area of which Viñales is part of. This fruit is called guayabita, and it gives those special characteristics to this rum.
They tried to plan this tree in other parts of Cuba, but they couldn't make the plant to adapt to the climate and terrain of other parts of the island. Which makes this rum even more special.
To make it even more rare, it is only produced during part of the year. Mostly due the availability of this fruit. I ended up not buying it, I saw it as another dust gatherer that tourists buy. But I didn't hesitate when I've been offered to taste it!
Staying at a casa particular (home stay)
One of those things that it is often recommended when visiting Cuba is staying at a casa particular, home stays managed by a family with just 2 or 3 bedrooms available. The conditions offered of course aren't the same as of a 5 star hotel, though the personal and family service provided is way better than in a hotel.
In Viñales was where I had my best experience, and proof of that was the reception we had when we arrived back from the horse riding trip. The dutch guy that was with me had his birthday that day, and our hosts prepared a surprise party for him with their family! A lot of drinking, cake and loads of dancing. But above all, 100% humbleness and pure genuineness in what they had to offer us.
This experience was a great start for my trip in Cuba, it made the whole difference.
I went out for dinner, and then I went back home to play domino for a few hours with the wife of the owner and the dutch couple. I felt completely at home with a new family.
And this was the Cuba that was introduced to me!