And two more greek islands to the list! This time I went to Skiathos and Skopelos, the Mamma Mia movie islands (a movie I haven't seen yet). It was a well worth long weekend!
So let's go…, and to keep consistency…, I woke up late… I had to run to Omonia to take the bus to Aghios Konstantinos where I would have to take the ferry. I arrived on time! I did the whole bus trip sleeping, which took about one hour…. On the boat I met a few Portuguese people, and I was quite impressed by the kids' language knowledge, they where speaking Portuguese and French fluently! On my way back to Athens I met a couple (I know she is german) in which their kid was speaking either English as German! Really nice couple that gave me a few tips (a bit late though) about Skopelos, but I will talk about that next…
Exploring a bit of Skiathos
The first island was Skiathos, as soon as I arrived I rented a scooter to explore the island, and I had as a goal to explore the north side and do some free camping…, but the guy said to me "don't go to the mountains nor the north of the island", and I though "yeah, right, it is where I am heading to…". But then he completes his sentence with "death roads"… I asked the same at the tourist office and they also strongly recommended to avoid that area by motorbike or scooter, only by car… Okay, that convinced me, so no more free camping in the north side of the island.
I went from 80 to 8, from extremely organized (almost psychotic) to a guy who gets on a bus without even checking the island's map and having no idea of what to expect. The plan was simply to do free camping in some corner, I was only aware that the south of the island is really touristic and that the hotels are constantly "hunting" free campers to report them to the authorities. And that in the north there are way less tourists and it's easier for free camping, but considering the way there included death roads, I had to stick with the south of the island…
Just to have an idea where I was heading towards to, I asked where the camping park was. Which is on the other side of the island, therefore I could always try to find places to hide my tent if I had the chance… Though, every few km I would see one or two hotels!! It is quite hard to pass unnoticed with a camping tend that has a SILVER cover on area of hotels. That made my choice easier, I decided by the camping park…, a bit pricy though…
The camping park is situated right next to a really cool lagoon, a protected landscape. I only saw if from outside, when I arrived it was closed and I ended up not visiting it on the following day. Though I drove around the beaches on my way back to Skiathos. I think I have never been into so many beaches in one single day. So many paradisiac beaches!
In one of those beaches I found a small swamp, right next to the sea. It looked like a river that ended up being "closed" by the beach sand. I explored a bit the swamp, and at some point I saw a "head" peaking out out of the water, and at first I thought it was a snake…, then I see 3 other heads, all next to that one, and all going towards me…. And then I saw 4 shells!!! Turtles, and all going towards me!!! I suspect tourists feed them, so once they noticed me they came right towards me!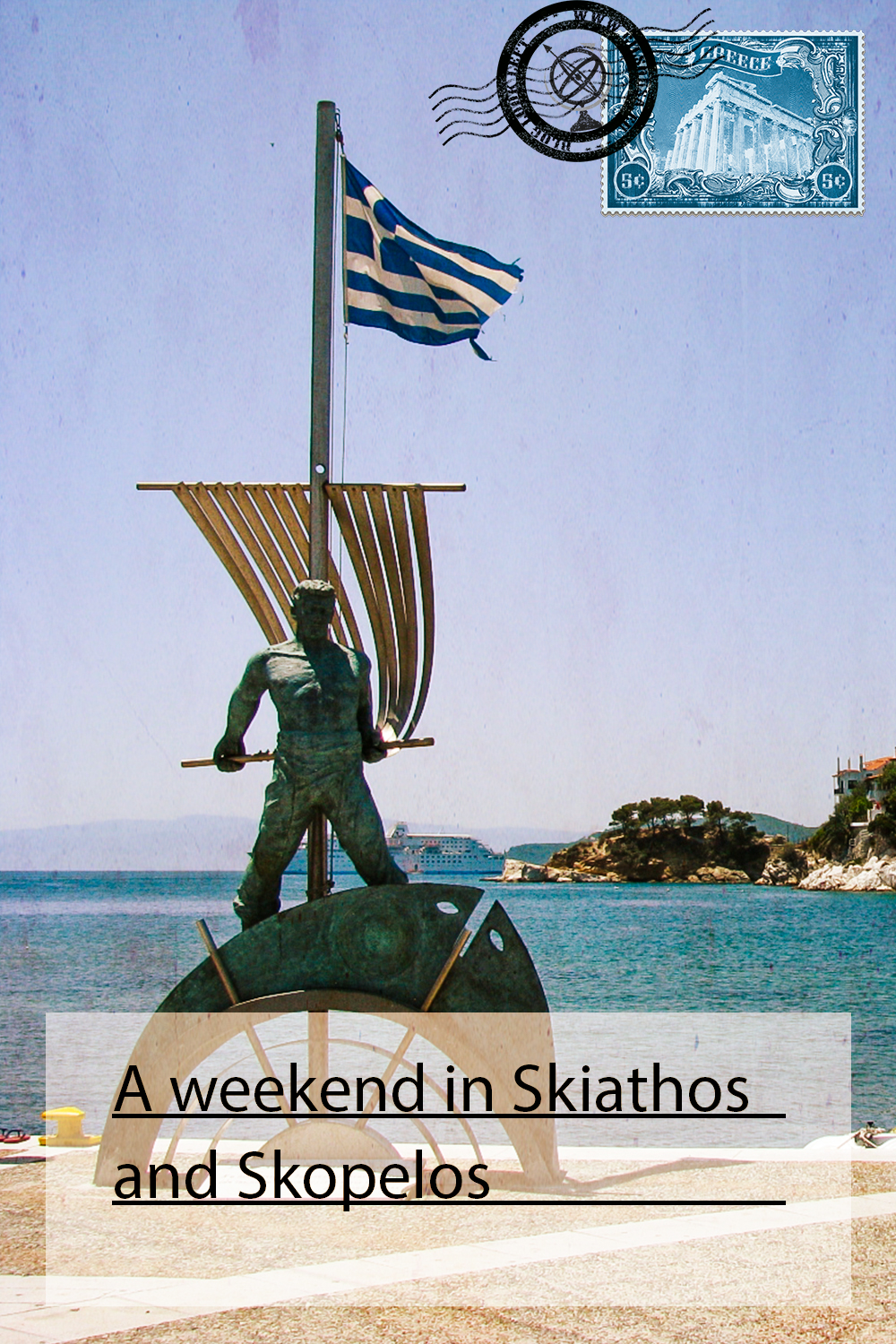 By the end of the day I decided to go shopping…, though in that island there are on ATMs in the city (which is about 10km from the camping park). So I had to drive back to the city, but on my way I saw a supermarket with a big sign saying VISA at the door, so I thought I could just pay with card…, I picked what I wanted to buy…, and when it was time to pay…, the card payments was "out of service"… I asked where's the nearest ATM, but the manager asked me how much I had, I showed to him 1,70€, the bill was 3€…, he grabs my money and says "you can go, I pay the rest"! Who would've imagine, such nice greeks in the islands?
I went back to the camping park, I had my dinner and I decided to sleep early so that I could enjoy the next day to explore other parts of the southern part of the island and visit the city…, however…, around mid-night I woke with a noise of pác pác pác pác…, I only had the anti-mosquito net covering the tent door, and the main cover was open to let air in. The pác pác pác pác didn't stop, and I noticed that it was followed by some moaning…., I look outside and I see the tent that was right in front of mine (about 10 meters away) and what was going on!
The sweet couple decided to give one right there in the middle of the camping park, nothing odd at all…, no sound insolation, and they had the urges for that, so why not? So where's the punchline here? Oh, maybe I forgot to mention, there was a garden lamp right behind their tent!!! From my tent I could see a Chinese shadows sex show!! Doggy style, and the poor guy working violently (so hard they managed to wake me up with all those pác pác pác pác).
The following morning I woke up with the birds chirping, the Nature, all that blablabla that one enjoys when camping…, and with a massive urge to go to the toilet (I won't share details, don't worry). Once I go back to my tent, I hear again the pác pác pác pác from the neighbors! It seems there's a saying for this, doing it before you sleep and doing it when you wake up, gives up health, joy and wakes up your neighbors!
I packed everything, and I went back to the road for more beaches and the city of Skiathos! The city is amazing, totally worth it! I wandered around for a long while and I never got bored, I even had time to swim for two hours near the rocks. Then, heading to another island, Skopelos…
A short stay in Skopelos
Skopelos was the weekend's wrong bet. I think everything went against my expectations, however overall it wasn't that bad…
Another try of free camping, once I arrived I asked where's the camping park (just in case), but what I heard back wasn't what I was expecting "we don't have suck thing here…". Nice. No plan B then… I really must find a place for free camping! Which worked as a birthday present for Tiago (the guy who introduced me to free camping), and this would be the first time I would do free camping on my own! I was quite excited about this…
I bough a map for 1,50€ and I chose a road, the one that had less hostels marked on the map. Though I passed by a few unmarked hotels…, so I walked and walked and walked…, only mountains without a single flat corner… I even tried to go through the bushes, but I ended up in another road. Shit, those roads are all in ziguezagues… I got my legs completely scratched for nothing. I kept walking until I found a trail, I headed that way and I kept walking and walking and walking…, and I found the perfect spot for my tent!
Hidden spot, flat and next to a cave (?!), once I tried to pass to that glade I see bees everywhere…, damn it! That corner was inhabited by a few more beings than I anticipated, and they were loads. Since it was getting dark, and I couldn't find a suitable spot, I gave up and went back to the town of Skopelos.
On my way I got a ride, and it seems I get all the Albanese people…, really cool guy, and I managed to chat a bit in greek! I am so proud of my poor greek vocabular! At least I can now say I did a bit of hitch-hiking…
I ended up finding a really nice inn, cheap and with a well deserved shower (after so much bush-walking, I really needed this…), and the following day I did the wrong choice…
Skopelos is an amazing island, featured in a movie with breathtaking beaches…, but the capital is disappointing. Staying on a bay, it is perfect to gather all the sea garbage…, and no one seems to care about all that junk… The town itself it's nice, but didn't add anything new comparing to all the other island towns. Same structure: narrow streets, stairs, amazing yards. It is nice, but after so many islands, it really didn't add anything new to me.
According to the couple (I mentioned before) said to me in the boat, the island of Skopelos is much more beautiful than Skiathos. But it seems that only outside the town. The town is indeed the stain of the island. I choose the town instead of riding a motorbike around the island…, not my best bet.
Here's a tip for however wants to travel this way: Don't plan too much, but get to know the place you are visiting. I didn't have a map, I didn't have internet, and I had no idea of what to expect. I like to surprise myself and I avoid creating expectations, therefore I avoid checking photos online first…, but one must know what to expect.
Doing free camping in touristic islands is quite complicated, the hotels are constantly hunting for free campers and they are the ones who report them to the police. Then there is the detail of terrain, islands like Rhodes, Egina, Syros and so on could be good for free camping (Rhodes is huge). But not the too touristic ones nor where the terrain is too irregular. Regarding the Sporades…, forget about that, the terrain is impossible and there are hotels everywhere, mostly in the most touristic areas of the islands.