Those who look for this small country on a map, easily think that a few days would be enough to visit Malta. Yes, it is possible, one can "visit" the country, but certainly won't have enough time to enjoy it properly. I did that same mistake, thinking that one long weekend would be enough, and I came back home eager to go back.
Malta is a small archipelago of three main islands and a few isles. These three islands are the island of Malta, where the capital La Valetta is, the island of Comino and the island of Gozo. All these islands have well-known sites that attract several tourists to hop from island to island in a few days. One of these well-known sites was recently destroyed due to the bad weather, even though, Gozo is still a popular place to visit in the archipelago.
What to visit in the island of Malta?
The island of Malta is the most visit destination, and the most explored one as well. While a lot of people opt by a cruise to visit the other islands, it is in the main island where most people get out to explore properly some of the island's main sites.
Our arrival in Malta was a bit troubled and almost resulted in a readjustment of our vacation. Crossed winds, that apparently are normal, and a landing attempt where the air hostess actually says "we will try to land". Something quite southing to hear when you are inside a flying can a few hundred meters above the ground… Some passengers around us said that most likely we would be detoured to Sicily, but thankfully we landed in Malta.
Transportation in the island of Malta
The transportation system in the island of Malta is quite good, being such a small country there isn't a concept of different distance rates. It's a fixed price, and the the buses pass quite often. In the island of Malta it isn't even recommended to use a car. Besides not being needed, it will end up being an unnecessary extra cost added to the trip, and a few stresses with parking and traffic.
My recommendation is to buy a reusable travel card, which will make your trips even cheaper. You can buy right at the airport or in one of the several vending spots around the capital.
Right at the airport we had a not so nice experience with Maltese customer services. But it was a singular case, in general we never issues with lack of sympathy from the local people.
What to visit in the capital of Malta, La Valetta
If you visit Malta and you don't visit the capital, then you can't even claim you visited the country. La Valetta is one of those capitals that are worth the time visiting, a really beautiful place and replenished with history. The majority of the capital is strictly for pedestrians, and quite prepared for people with reduced mobility.
One of the things I recommend to do is just letting yourself wander through the streets. It is a small city, so it is quite easy to walk around and appreciate the gorgeous architecture of this city. The walk around the peninsula gives an unique perspective to the other peninsulas, and to the island Manoel, where you can see a fort. Just looking at the map you can see the amount of peninsulas very close to each other. By seaside walk you can see many of these peninsulas, with countless opportunities for photography.
The capital is also filled with museums and buildings worth of a visit. There's a good reason why La Valetta was the European Capital of Culture in 2018. Besides the fact that the whole city is UNESCO World Heritage.
To visit La Valetta properly, I'd say you'd need at least a full day. But considering this guide suggests only 4 days in the country, my suggestions for the capital are basically for just one afternoon. When we visited Malta we left the capital for last, and if before we had the feeling that 4 days wouldn't be enough, it was in La Valetta that we were sure about this.
Out of the many places we saw that we could visit, but we didn't because of lack of time, I want to highlight the 5D Malta theater, that will take you on an experience to discover the history of the country on a theater of sensations, with movement, splashes of water and wind. The post museum, which will show the geographic importance of Malta as a strategic point during the war times. The Manoel theater, one of the oldest theaters still working in Europe. The Saint John's Co-Cathedral, not only a place of cult, but also a gorgeous piece of art. And of course, this is just a sneak preview of what you can visit in La Valetta, there's much more to explore.
Staying in Sliema and St. Julian
One thing that surprises a lot of people when they visit Malta, and it is quite common there, is how small the cities are. Looking at the map, we think that those peninsulas are way bigger than they really are. We think that if in each peninsula there is a city, then the peninsula must be somehow big. No, this isn't the case. It is really easy to go from one city to the next, walking, almost without evening realizing it. Even though they are cities, the way they are interconnected they look more like neighborhoods of a bigger city.
Sliema and St. Julian are two of these cities, one next to the other, and quite popular for their night life. While La Valetta is a cultural city, Sliema and St. Julian are more urban cities, with more local life.
We chose to stay in Sliema as a base, and it ended up being a great option. The "hostel" where we stayed was basically a high end room converted into a dorm, with a jacuzzi without curtains that would flood the whole toilet, and another jacuzzi in a corner of the room. A bit odd, but with a great view. And between the nightlife of St. Julian and the cultural area of La Valetta, all very near.
Visit Mosta, Rabat and Mdina in one afternoon
Considering this is a small island, with so many towns, it gets a bit confusing when we are traveling around the country. We think we are in one city, and in fact we are already arriving in another one. From Sliema to Mosta we barely noticed leaving the "capital area".
The ex-libris of this town (or city?) is the Rotunda of Mosta. It is a round church with a special detail, inside there is a "miracle bomb", a replica of a bomb that during World War II hit the church, with 300 people inside, but it didn't explode.
Speaking of World War II, right next to the church there is a small underground passage that was used during the war times. A short visit, but quite interesting.
Still in Mosta, there is another place that I recommend to visit, however sadly we weren't aware of this place when we were there. The Ta' Bistra Catacombs, with more than 1700 years!
Rabat and Mdina
After taking another bus, after a short period of time we arrive in Rabat and Mdina. In fact, these two towns are so close to each other that we can't even notice when are are leaving one and entering the other one. Mdina is known as the Silent City, and it lies on the top of a hill with a view other most part of the island of Malta. It is a small fortified city, with a lot of opportunities for photography and more romantic walks.
For the Game of Thrones lovers, Mdina was one of the sites in Malta used as a site for the shootings. One of the scenes that were shoot in Mdina was the Littlefinger brothel. Besides Mdina, there are other sites to visit in Malta that were used during the shootings of this tv show.
Regarding Rabat, this part has a more recent look, but still quite rural. It doesn't have the charm of Mdina, but I also recommend a walk through the city and to explore the Saint Paul's Catacombs. It was one of the sites that we enjoyed the most exploring, and without a doubt, really interesting.
To find a place to eat, Rabat is in fact the best option. Cheaper and with options equally good. It was also in Rabat where we met a waiter who is from Cork. As soon as he saw that my debit card is Irish he started a chat. The world is indeed tiny…
Exploring the Blue Grotto and eating fresh fish in Marsaxlokk
Blue Grotto is one of the most popular sites to visit in Malta, however it is often mistaken as the Blue Lagoon in the island of Comino. Many tourists end up thinking that it is the same place, ending up not having enough time to visit this magnificent site.
The way to the Blue Grotto is quite rural. Here you will notice clearly that you left the urban area of the island. It is perfectly possible to visit the Blue Grotto using only public transportation. And that's what we did! The view from the bus stop is amazing, but I highly recommend walking down to the port and take one boat trip through the caves and arches. If you have extra time, then probably you can eve swim or dive in that area. Unfortunately we didn't have that much time…
And to eat the tour, why not a stop in Marsaxlokk? Marsaxlokk is a fishing town with a really beautiful and photogenic bay. It is one of the recommended places in Malta to eat fresh fish, therefore, I had to go there and try that fish. My lunch was fish backed in salt! Really tasty!
Visit the Popeye Village in Malta
Before I go ahead with this recommendation, I want to start by a heads up. I don't think it is worth adding the Popeye Village to your plans unless it is on the way of anything else you want to see. Yes, it is cute, but I was a bit disappointed with the experience as a whole.
The Popeye Village is what's left of the "movie studios" of the 1980 Popeye movie, starring Robin Williams. After the recordings ended, the population of Malta asked to keep the scenario, and then they ended up using it as a touristic destination.
If your goal is to take a photo, then you can do that from the parking lot, which has a view over the whole bay. From there you can take great photos!
But if your plans are to visit it, then you will have to pay, and the experience can change depending on a lot of factors. In our case, there were jelly fish in the sea, so we couldn't even go there. And the boat trip (which if I am not mistake is also included in the ticket) wasn't running that day either. So we paid 15€ for a really short visit that didn't even last one hour.
There are no direct buses to the studios from the capital area. You can stop in the town of Mellieħa and then walk for about half an hour to the other side of the island (it's less than 2km). Or if you have luggage, like us, you can wait for one of the buses that will take you to the Popeye Village. But beware of ripoff offers, which sadly we fell for. A van showed up saying that all buses were cancelled, and the only options would be walking or those vans. We paid 2€ for a trip of 5 minutes, the bus arrived right after us. The way back we opted by walking…
Visit the Blue Lagoon in Comino
Depending on the time you have available, you can do several activities in Comino. But if you only have 4 days to visit Malta, like we did, then there aren't many options left.
The Blue Lagoon is without a doubt one of the most visited sites, and during high season I even do NOT recommend visiting it. The lagoon is indeed gorgeous, but the area we have to place a town is tiny. Just about 20 meters of sand by a width of 3 meters. The options end up leaving our stuff at the top of the cliff, which is pure earth and rock. Of course, there's always a chance of being robbed. Finding a place to leave our stuff can be minutes away from the water, and we will always have to go down because that's a cliff.
When we visited the Blue Lagoon there was a place to leave our valuables. But again, quite reduced availability, just a "shed" with lockers, and with an option to leave bigger bags with a tag. In that same area there are also food trucks, and of course, a bit pricy…
If you have time to explore a bit more, then you go for a walk through the island, or do some nautical sports or even diving. This last option left me quite tempted to do, unfortunately there wasn't really time to do everything.
How to get to Comino
To get to Comino there are several options, either by cruise from Sliema, or ferries from the island of Malta, on the extreme of the island near Comino and Gozo, or private options.
And to get to the ferry, from the capital area, there is a bus that takes about one hour with several stops. Beware that this route is really popular, therefore if you can't find a seated stop, you might end up the whole trip standing! And this applies in both directions.
Since our final destination was Gozo, we managed to get a combo ticket from Malta to Gozo, with a stop in Comino for a few hours. That fit perfectly within our plan!
What to visit in the island of Gozo
While for the island of Malta I would recommend NOT to rent a car, in Gozo my suggestion goes towards the other end. And as it is usual in small places, everything is a family business. When we chose our airBNB we had the option to rent a car, later we found out that both the airBNB place and the rent-a-car company are all owned by the same person! He even told us his life story in how everything started as a not-so-legal business, renting cars to tourists, and later he legalized it and expanded the business.
One of the biggest advantages of using airBNB is the close contact you have with the owners of that place. Since most likely they are local people, they are the best also to give recommendations of places to visit.
We only slept one night in Gozo, but we enjoyed the following day as much as possible. We arrived at the end of the day, and the next day we started exploring quite early until the very last ferry returning to the island of Malta.
Spending a night in Qala
Resist to the temptation of choosing the center of the island as a base camp, or even the capital of the island, Victoria (which is also in the center). It might seem like a great idea, since you'll be closer to everything. But the island is so small, that in fact you should think how you will return to the island of Malta. Qala is right next to the port of Gozo, and a taxi trip or bus to the port is quite short and inexpensive. However, if you stay in the center of the island, you will have to return the car, and then find a way to reach the port. Unless you rent the car right at the port, any other option won't be worth the trouble.
Qala is a really small town, on the top of a shill with gorgeous views and a few nice restaurants. It was in Qala when we totally felt in a rural area, quite relaxed, beautiful and quiet. However, there isn't much to visit from a touristic point of view.
Go to the beach in Ramla Bay
I am not that kind of person who goes to the beach, even though I did that in previous trips. But since I didn't go alone in this trip, it ended up being part of our plans. Ramla Bay isn't amazing, but still a nice beach and one of the most popular in Gozo. Also one of the biggest in Gozo.
Something we weren't aware before our trip to Malta is the view from a cave not too far from Ramla Bay. In fact, from the cave you can take amazing photos overlooking the beach. The name of this cave is Tal Mixta, maybe I will visit it next time I go there…
Visit the Marsalforn Salt pans
The Marsalforn Salt pans is one of those places that you have to visit in Malta. These salt pans which take an extension of about 3km are around 350 years old, and they are still being used today. These salt pans were carved on the rock, and during summer you can even see people working on them.
One thing I highly recommend you to do, and there are even signs warning about the same, is respecting this site as a working site. Don't walk over the salt pans, not just because you might damage them, but also because you might contaminate the salt. Even though this is a really popular place, it doesn't exist just because of tourism.
Swim in the Wied il-Għasri Valley
Wied il in Maltese means The valley. You'll find several places with the prefix Wied il around the country, and now you know why!
As soon as I decided to visit Malta I bought a travel book. However, I barely opened it…, I only opened it in places I was visiting to learn a bit more besides the local recommendation. Wied il-Għasri wasn't one of those sites I found in my guide. In fact, this was one of the suggestions from our host.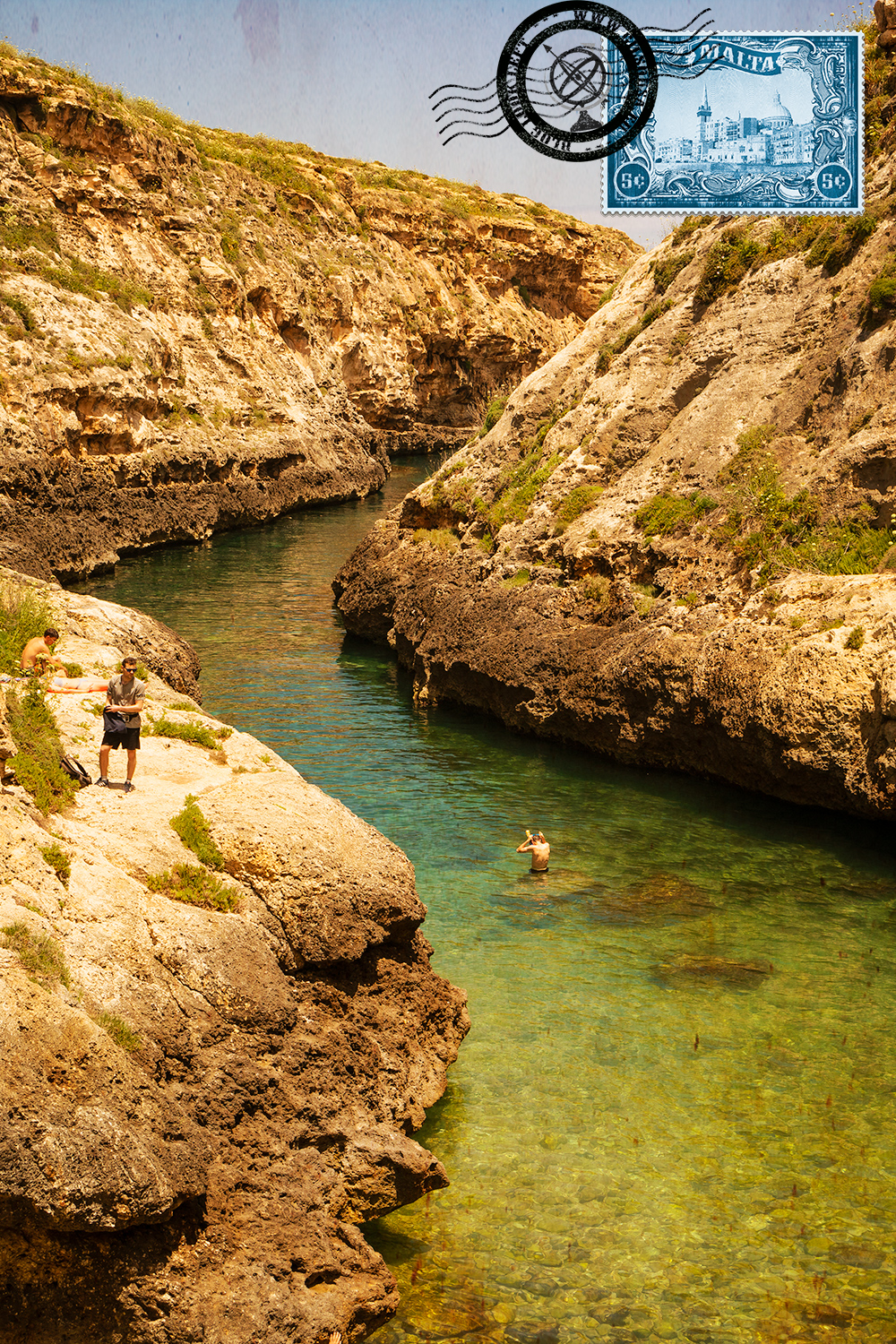 I have to admit that we were a bit disappointed when we arrived. We walked through secondary paths just to see the sea getting inside a valley? We saw it from above, in fact it is nice, but nothing special. But since we were there, we kept walking close to the cliff, until we noticed people down there swimming. And that's when our curiosity increased!
We tried to find how those people reached the sea, until we saw some stairs leading to the bottom of the valley. And yes, it totally paid of the visit! Few people, crystal clear waters, and a lot of rocks to exfoliate our feet… Wied il-Għasri was one of the pleasant surprises in Gozo.
Visit another lesser known window in Malta, Wied Il-Mielaħ
The famous Azure Window fell not long time ago, and that was Gozo's ex-libris and one of the most well-known sites in Malta. But there are other windows in the archipelago, and this one is somehow impressive.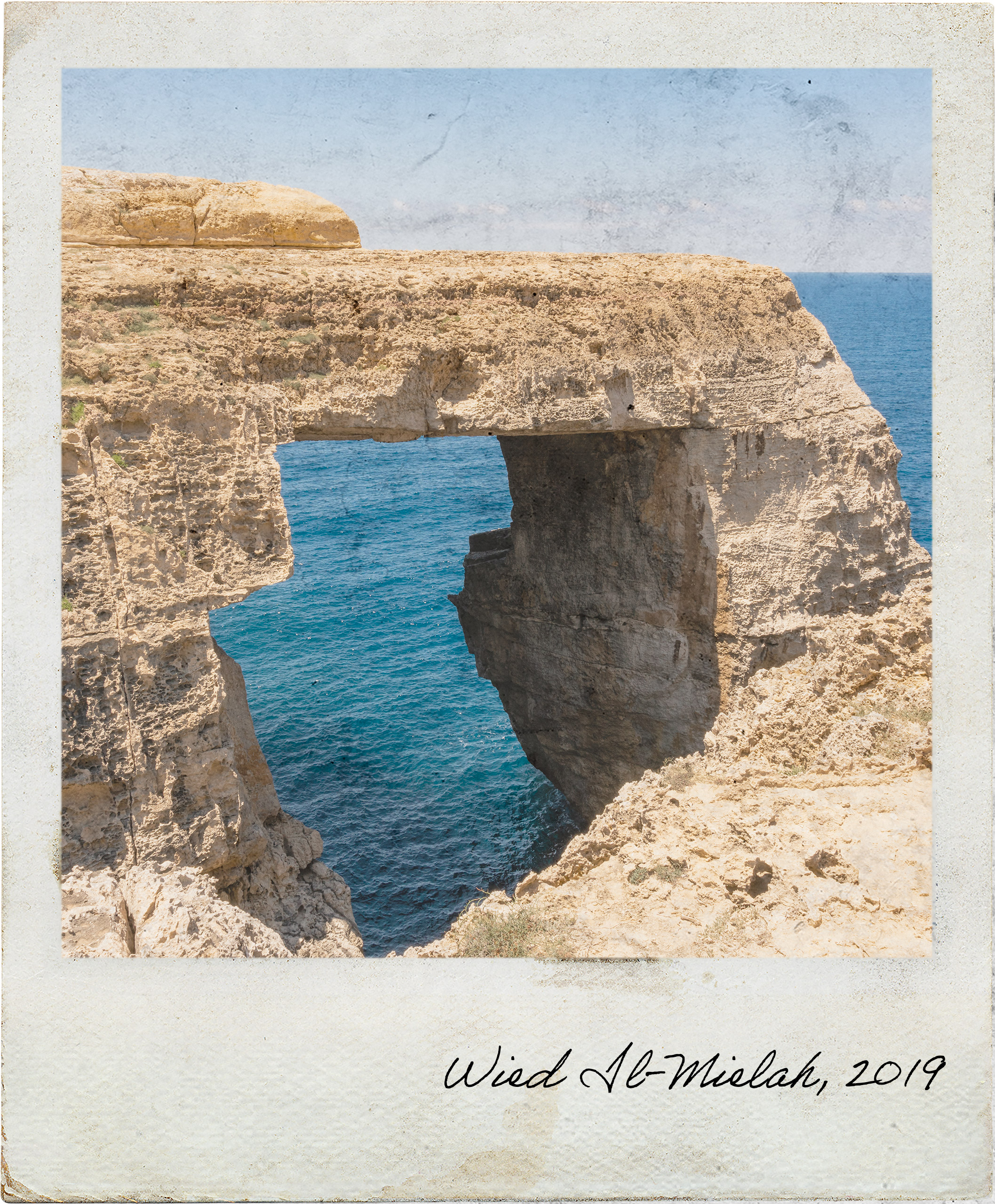 We visited this place also following our airBNB's host, we weren't even aware of this site's existence. We arrived there, though part of the trail for the best perspective was closed, even though we could see how high that window is. It isn't as amazing as you see from the photos of Azure Window, but still a beautiful place to visit.
On the top of Gozo, visit to the Basilica Ta' Pinu
I am not religious, but I love architecture. I mostly visit cathedrals and churches because of the art. It is undeniable how religion propelled art, like architecture and sculpture, and also painting. Regarding the Basilica Ta' Pinu, the reasons view from up there add up to the reasons to visit it.
If you are coming from Wied Il-Mielaħ, towards the next destination of this list, where the Azure Window was, at some point you will see the basilica at the top a hill. It is almost impossible not to see it, and if you can see it from down there, imagine the views from up there!
At first Ta' Pinu wasn't on our list, but once we noticed our route would pass by we ended up stopping there as well. We also had lunch in that town. Even if just for the views, it is a nice place to stop for a few minutes.
Visit the Inland Sea next to the old Azure Window and Dwejra Bay
First of all, what is an Inland Sea? It is when the sea invades the "mainland" (in this case an island), but not as a bay. It is kind of a cave. This is the case of this site, it is a beach with a massive rock in front of it, with a small cave that leads to the sea.
This "lake" is right next to where the Azure Window used to be, and therefore still quite popular. You don't need to take a big detour, and it is still nice to visit this area. It isn't as amazing as most of the previous places, but it is still quite interesting to visit an inland sea. If not, just for your geographic curiosity.
The bay where the Azure Window used to be is called Dwejra Bay, and it is the best reference point to find this area.
Passing by Xlendi Bay
Xlendi Bay was a bit of a disappointment for us, but also because we didn't have much time left. It is a fishing town, like Marsaxlokk, and also in one bay. Not as charming, but still beautiful. Our disappointment was due to the fact that it wasn't special anymore, we were expecting something different. But if you have time, then it is a town worth visiting.
If you like diving, even for beginners, Xlendi Bay is a great place to visit in Gozo. If you are not into diving, you can also do snorkel, since the coral reefs are very close to the surface.
Finally, a visit to the capital of Gozo, Victoria
Also known as Rabat, or by its title of Città Victoria. It was a positive surprise for us. In fact, it wasn't even part of our plans to pass by Victoria, but we were really amazed by the Cittadella, really beautiful and even the city is bigger than we thought.
The best thing to do in Victoria is finding a place to park the car, and then just wander through the narrow streets. Of course, you must visit the Cittadella, and then visit a few museums and taverns.
One last swim at the sea in Mġarr ix-Xini
Another really positive surprise in our trip through Gozo. When we thought about what to visit in Malta, we already expected a few cute spots, but highly touristic. But this was a bit different, a hidden gem and quite local. Again, another suggestion of our host, which was a great way to close our chapter in Gozo.
The site isn't easy to find, we had to drive through a really narrow road for several kilometers. We blindly trusted the GPS, and which led us to that place. On the way we found several cars going back, which resulted in a few tight situations…, but also gave us confidence that we were going in the right direction. If there are cars, then probably there is something to see as well!
Once we arrived we noticed right away that we would have to park the car wherever it was possible. The bay is at the bottom of a steep hill, and it isn't easy to find parking. We had to walk a bit to reach the water.
The beach isn't stunning, but it is really nice. Basically there were only local people there, probably we were the only tourists. And of course, we had to swim in those crystal clear waters! We decided to spend our last minutes properly, and relax a bit, for the last few hours in Gozo.
Our itinerary of 4 days to visit Malta
The way we organized our itinerary wasn't exactly as described above. Above are the places we visited, but not by that order. Since we would have to go back to the main island, we left a few things to visit in Malta.
The first day was for Mosta, Mdina and Rabat. We decided to go straight to the inner side of the island, because we thought we would take much longer to visit that part than we actually did. At the end of the day we still had time to visit a bit the capital, La Valetta.
The following morning we woke up early ready to stay overnight in Gozo. With a small stop to visit the Popeye Village, and a really nice afternoon in Comino.
The third day was just to explore Gozo. Yes, the list of places we visited is quite long. And I think that was what made us realize that there is a lot more to visit in Malta than we thought. 4 days isn't enough, we were rushing a bit, and there was so much that was left to explore.
That same night we already slept again in Sliema, it was a really long day, with a tiresome bus trip. We had to run to catch the bus, and make sure we would get a seat. After all, it is an one-hour trip… In the end we still found energies to have a nice dinner and some nice wine!
The fourth and last day was again in the island of Malta. We finally visited the Blue Grotto, and we ended our long weekend with a really nice lunch of fish au salt in Marsaxlokk!
Misadventures on the way back home…
After our visit to Malta, the return home also deserves a section. The misadventure started on the way to the airport. After a full day carrying our luggages, between buses and taxis, from Marsaxlokk we decided to take two buses to the airport. Everything seemed to be really simple, if not for the simple fact that the bus stop of the second bus changed place and we took way too long until we found out. And thanks to that, we almost missed out flight!
A detail about this adventure that I left out, my phone stopped working right in the first day. I was the whole time without a phone. Usually I print everything I need, and it is something I highly recommend everyone to do always, but since I was with company we both knew we would always have a copy of everything. So I didn't print anything… Which ended up in a few inconvenient situations, for me…
We flew using the most hated airline in Europe. I don't even need to name it. And one of the disadvantages of flying with them is that we must do the on-line check-in in advance, and we either print it or we have a virtual pass on our phones. And since I was without a phone, I had to depend on my friend…
This airline also has the reputation of splitting people in a way to try to force them to pay and to travel together. But since we are really cheap people, we didn't even care if we would spend a few hours in different parts of the airplane. The problem was, that I had to get inside the airplane with her, and thanks to the ticket, my seat was in one of the last rows while hers was in one of the first ones… I had to cross the whole airplane, with people coming in the opposite direction…, not a very pleasant experience…
I sat in my place. I started to unwind, after 4 incredible days. And then a lady asked me if I was traveling on my own. I said yes, to which she then asks if I wouldn't mind switching with her husband that was in row 4. My friend was also in the 4th row! So I had to cross the whole airplane, again, with people also trying to pass, just to change place!
It is moments like these that make our trips more fun. When everything goes as planned, we will have just good memories and gorgeous photos that no one cares about. But when situations like these happen, then we can always have a good laugh sharing these stories with our friends!