It was time to wake up, I get my phone and I see that it is 4:44, my alarm would ring in one minute, no need to try to sleep longer… I just had to get ready to go to Hiroshima. I had my shower, got my stuff and I went to the train station a bit afraid I could do the wrong turn somewhere, I did that path a few times with Elma and Max, but alone one can always do some mistake… It was fine.
My trip from Tokyo to Hiroshima in one day
I got an early train to Tokyo Station, that one is a world by itself! Elma warned me that it is a big one, but the indications are easy to follow, so I had no problems getting to the right platform. I just got inside the train, I placed my luggage and I sat on my place when I realized that I just had a glass of milk as a breakfast… Maybe I should eat something else, after all I had a long journey of about 900km ahead…
I went to the vending machines, but I only had 5000¥, those machines only accept notes of 1000¥, damn… The next second I was already thinking about food, and I can't have it, my stomach was begging! But again, it isn't new that I am a lucky bastard! The bullet trains also have on the spot service! A few minutes later a girl passed with a trolley full of food and beverages! That saved the day!
I tried to sleep a bit, and I did, until we arrived in Shin-Osaka station, the next train was to Hiroshima and I thought it was time to decide where to go next, after all, I also needed to book my train tickets and hotels. I decided to follow the original plan, and I decided for Kurashiki. I kind of had a feeling that it would be just another tourists rip-off "traditional towns", but I also needed to buy a few souvenirs…
But then the problem, a LOT of tunnels! And with my internet constantly being disconnected, it got harder to book a hotel anywhere, and the landscape outside the tunnels didn't help to get distracted either, what an over populated country… But eventually I managed to book a hotel recommended by Frommers' book, the one we used in Peru. I hoped the town is nice as they say, I have a good opinion about this books so far.
Finally in Hiroshima!
Lost in Translation in Hiroshima and how technology help me
Have you ever felt like being in a movie? Unreal or odd situations, but still managing to end the day as the star when everything ends well? Well, in Hiroshima I completely felt like being in Lost in Translation…
Finally in Hiroshima, I thought it would be better to book the tickets Hiroshima – Kurashiki and Kurashiki – Kyoto already, but where the hell is the ticket office? I had to pass two times through the gates to find it, I was in the wrong floor 😡
Hiroshima Station isn't small, and I had to cross it all to get to the buses and trams area, I used google maps to find out how to get to the hotel, the app is quite good and gives you detailed info of which trams and when they depart, the problem was that I only saw buses (the trams are really next to the buses but I didn't see them…), and since even google maps has the name of the tram stations in Japanese and very very few info in English, I got a bit confused so I decided to take the easier way – taxi.
That was easy, an old man who speaks a few English managed to help me with the taxi driver and explain him which hotel I was heading to, I put my luggage in the trunk, and when I was getting inside the taxi I realized that something was missing… MY TRIPOD!!! I left it at the ticket office and I knew exactly where! I just said "forgot something", I now know that the less English I speak the better for them, a few keywords are more helpful than speaking. I had to take all my stuff from the taxi again, and cross the whole damn big station again. I start sweating…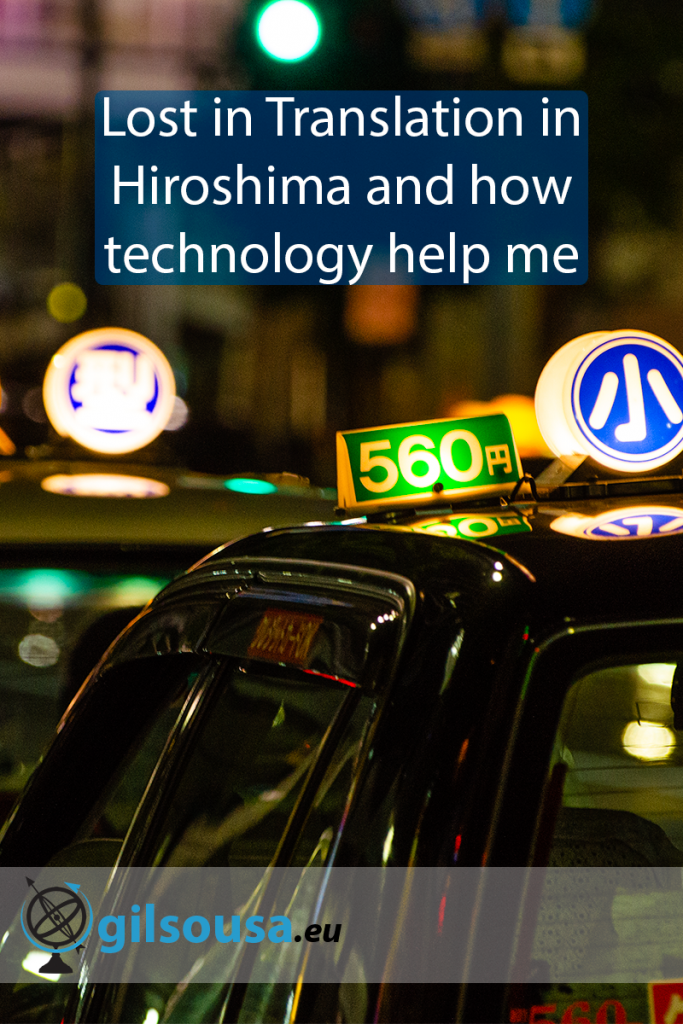 I got there again, and I saw that the tripod was not there anymore…, I was quite frustrated and angry with myself, I then saw a woman supposedly there to help people, and she was helping someone else in a very very patient way. I am not used to that, in Europe people are way more stressed and multi tasking, I even said "excuse me", but since it wasn't my turn yet she totally ignored me. I was really stressed, and it is just a tripod… I then started to calm down when I thought that I actually could just buy a new one, but still, I waited for my turn.
Finally, I got to ask her if she saw anything! She went to another guy and asked him if he saw anything, I found myself totally lost in translation, how the hell does one explain what a tripod is? Keywords as "camera", "accessory" didn't work… So, I then remembered that I had rented a pocket internet device! Geeky for vacations, but it turned out to be really helpful! Google images, I searched for tripod and there we go! The guy went straight to the back stage and he brought my tripod back to me! Yeah, I got it back! Oh wait…, not yet…
I had to fill a small form, with my name, phone number and something else that I didn't understand… A funny thing about languages and our brain, is that if we are not open enough for how the language works, our brain doesn't recognize simple words as "hoteru".
She tried to explain what she wanted, in Japanese, the guy as well, and now I remember that they said a few times hoteru, but I just didn't understand…, again, google saved the day! (I am advertising for google way too much and for free) I added the Japanese keyboard to my iPhone, I opened google translate on my browser, and I asked her to write what she wanted. The moment I pressed "translate" and I read "Please write the name of the hotel" I just said "ahhhhhh" and she replied with segoi several times!
Visiting the Hiroshima Peace Memorial Museum
I finally could go to the hotel and leave my stuff before I going for my walk around the city center, but not without lunch, after that stressed episode I really needed to eat something, so I went to the first restaurant I saw! Italian! Shame shame… Though, it was a very interesting experience, Italian with Japanese ingredients, the veggies weren't the most obvious ones, and of course it doesn't taste the same. I was polite and I said it was good, but it wasn't… I guess that's how Japanese people feel when they go to Europe then eat at a Japanese restaurant. Though I was finally ready for the Peace Memorial Park, or so I though…
Elma and Max strongly advised NOT to go to the museum straight away, so I went for a walk first, through the Memorial Park, the A-Bomb Dome and a bit around for some photo shooting, and then I went to the museum… Oh, what a strong experience! One thing is knowing that the Americans drop an A-bomb in Hiroshima and Nagasaki, another thing is being there and see and read more than that. It is a very depressing experience, I honestly almost cried and some people were too close to cry. The devastation was supreme, the city was reduced to ashes in a few seconds, hundreds or thousands of buildings were gone! And the stories… I'll leave you a few links to read if you want to know more, but I bet you won't look at paper cranes the same way again.
I was still jet lagged, and I didn't rest much either, I tried to stay awake until late, but usually I had to wake up early as well, so the resting part was almost none. I went back to the hotel to check in and I had a two hours nap. Yep shame on me again, but when I am on vacations, I can do whatever I want.
Previously in Tokyo, I wrote on couchsurfing Hiroshima group that I would be in town and I invited people to have a drink with me, just one guy replied, a Spanish guy that had been in Japan two times before. We agreed to have dinner together that day, so, after my nap I went for a few night photo shoots and then I met with him for dinner and a drink afterwards. Really nice guy, and a Japan-lover, it isn't every one that goes three times to the same country, on the other side of the world, for vacations! He speaks a bit Japanese and he is quite interested in Japanese culture, it was nice to meet some one like him, one of the pleasures of traveling alone, getting to meet interesting people. After that, back to the hotel, tomorrow's going to be another long day…