Being back from an adventure through the Balkans, it's time to start writing about it. My first article of this series is about the route I took from Zagreb to Athens, the places I passed through and the reasons why.
Croatia
The decision to pass by Croatia was quite easy, I flew to Zagreb to meet with a friend from there, and that was my plan. She's from there, so she knows better what to visit, being my first time there, anything would be new and interesting to me .
I didn't spend enough time in Zagreb though, our destination was the Dalmatian coast, mostly Šibenik area. We went several times to the beach, actually our house was literally across the road from the sea, and it wasn't busy at all. We also went to Krka National Park for a day trip, just amazing.
Bosnia and Herzegovina
Going to Bosnia was a mix of a "mistake" and "will". Part of my plans was to go to Mostar for its famous bridge, however the real reason why I decided by Bosnia was due the cultural impact I was expecting to face, which indeed surprised me a lot. I still don't know if it was a mistake not passing through Sarajevo, a lot of people tell me I should have included it in my plans… but just Mostar is a great place to visit, totally worth it, beautiful and full of history.
Montenegro
Of all the countries I passed through during this trip, Montenegro was the one that I actually felt like visiting it and also the one I enjoyed it the most. Even though they are not part of European Union, the currency they actually use euros, a very cleaver way to avoid dealing with currency drops in case of a national crisis. In a few days I visited several national parks, in a so small country, and I spent most of my time in the charming town of Kotor.
Albania
Albania was one of the improvised stops of this trip, initially it wasn't part of my plans to stop, but I had to cross it nonetheless to get to North Macedonia. The plan was to go from Kotor to Ohrid on a night bus, but when in Kotor I realized it would be way more interesting to at least cross the country during the day and see something, so I spent that night in Tirana and the next morning I headed up to Ohrid. It was a great decision, the trip was way more relaxed and I saw a few interesting things on the way.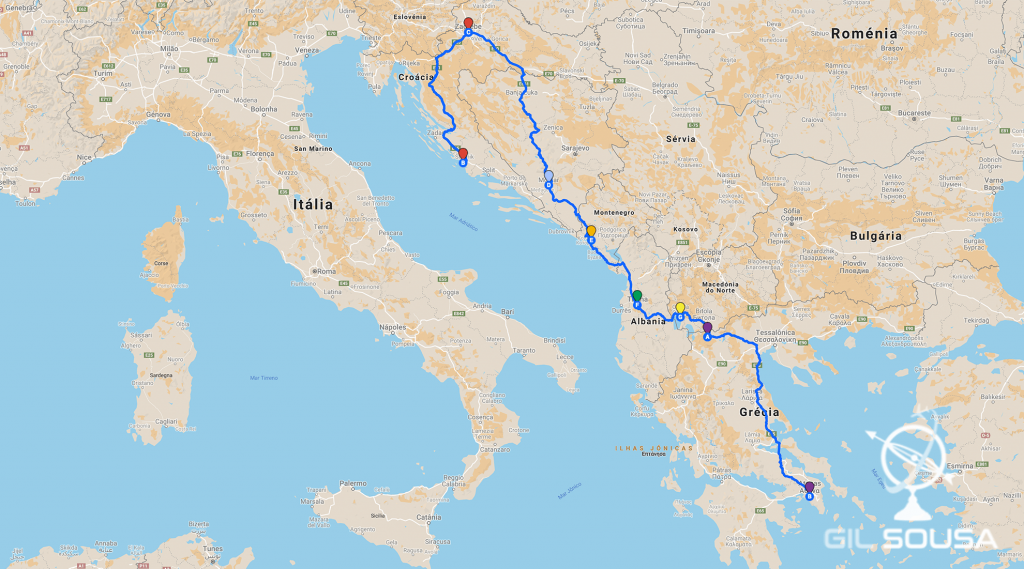 Macedonia (FYROM)
Macedonia, with official name of Former Yugoslav Republic of Macedonia North Macedonia, and where I stayed for two nights at the ancient capital Ohrid, by the lake with the same name. As one would expect, you can breathe history in each corner of the old city, with monuments everywhere that easily you can spot the different historical eras that passed through that city. There I decided to take my time to relax, with a full day dedicated to spend time at the lake sunbathing and swimming. I only regret not staying in a hostel, besides history, that city is also full of life. Day and night. And being alone, a hostel would be a great way to meet new people.
Greece
And back to my beloved Greece! Not much to stay about this country that I love so much, you can find plenty of articles in this blog detailing experiences I had while living there. I spend one night in the north of Greece, as a strategical stop so that I could take a rest before arriving in Athens, and another night in Athens to meet with some friends only. And as expected, it was totally worth it.
GuardarGuardar