Visiting Iceland is a dream for many people, and for several good reasons. Mostly for those breathtaking and almost unspoiled views. But not only because of that, also all that mysticism that Iceland brings in us for all of those unique natural activities, that for most of us can only fit in our imagination. Like volcanos, northern lights and the midnight sun. Even for those who only have a few days to visit, the Golden Circle is a short route really close to the capital, and easy to visit.
It won't matter if it's Summer or Winter, for sure you will have a lifetime experience, unless Nature decides to surprise you…, which isn't that uncommon around there…
The Golden Circle is one of Iceland's most popular routes, and it is really close to the capital, Reykjavik, and that's why a lot of tourists do this route in just one day. I took about two days, I got a bit lost a few times, and there was still so much to see, and that I wanted to see. Honestly, I recommend doing this route in two days, so that you can enjoy the trip properly without rushing.
Driving in the Golden Circle
Most of Golden Circle's roads are well paved, it is a really popular route, therefore it is also common to cross with a few buses. Before I went to Iceland I read is several places that it is a must to rent a 4×4 car, this isn't exactly like that, it will depend mostly on your plans. And for the Golden Circle, you can just rent a perfectly normal car. Only beware on the kind of tires you have, with ice it is important to make sure your tires are prepared for ice. Usually the rent-a-car companies will give you a car already ready for the ice, but it doesn't hurt to ask.
Another thing you should take into account is the roads map, usually rent-a-car companies give you a map with all types of roads properly identified, the roads you can drive with your type of car, and the ones you should avoid. Those roads usually also have signs warning which kind of cars are allowed there, so as long as you pay attention to the road signs, you'll be fine. I haven't seen any of those signs around the Golden Circle, but at some point I got lost and I drove several kilometers in a road totally covered in snow, without seeing a single car on the way… I was lucky, but I have to admit I also was really scared…
And about this event, I just relied on the GPS…, don't do that… In Iceland, the shortest route isn't properly the safest one. Though, the views are breathtaking, I loved getting lost that way, but driving alone with loads of opportunities for things to go wrong, wasn't one of my sharpest ideas… In the end everything was fine, and that's all it matters!
Þingvellir National Park
Þingvellir National Park, or Thingvellir in latin characters, is one of the most important places in Iceland, if not really "the" place! Usually it is associated with Iceland's National Parliament, founded in 930, and it is the oldest parliament in history! Named Alþingi, nowadays the meetings don't take place in the historical site, though it was like that until 1799.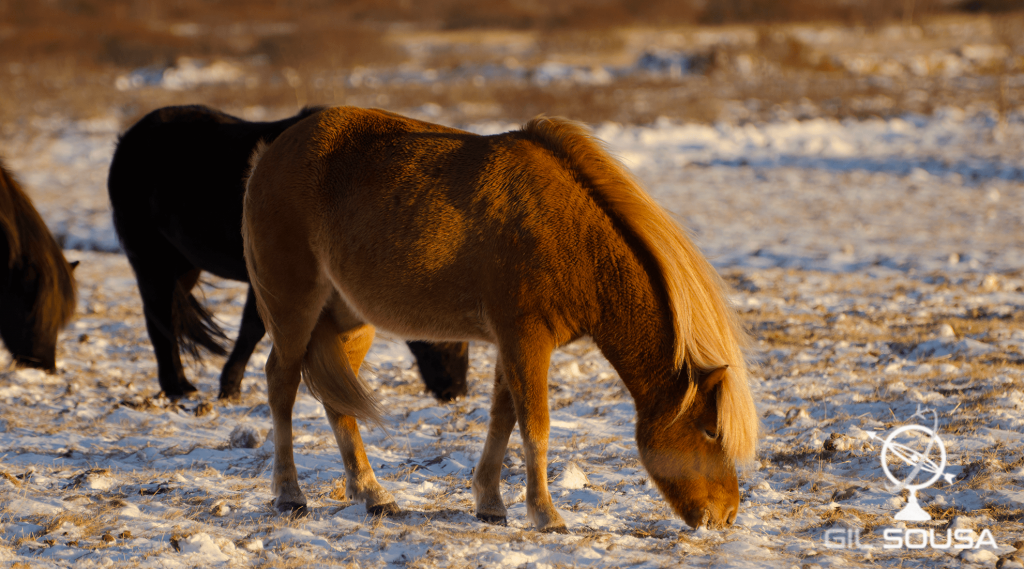 It is in this park where you can also see the crack between the Euroasian and American tectonic plates . And where a lot of people, like myself, pay to swim in near freezing waters, and have the experience of swimming literally between continents! The visibility is unreal, so is the water temperature…, it is constant at 2ºC during the whole year, due the volcanic activity in the island. It is a must of an experience, for scuba diving or snorkel, and to be honest, we barely can feel the cold, the dry suit is amazing for these waters! Even if you don't have scuba diving license, you can still snorkel, which was what I did, and I still recommend it for the experience. And if you think you can still free dive, you can try, but due the amount of air that will be inside your dry suit, you'll most likely look like a duck with your bum up in the air! Which basically means that even if you can't swim, you still can experience this, no matter what you do, you won't sink!
Geysers
You might think that you'll only see one geyser, after all it's always the same that shows up in all photos, though that's not exactly true. In fact, there are several hot spring with small eruptions, but just one that gets to impressive heights and that will awe us. That geyser is called Strokkur, and you don't even need to wait long to see one eruption, 10 minutes will be enough. Though, not all eruptions are that impressive, I had to wait a few eruptions to see one that reached more than 10 meters. And I am glad I did wait! But still, Strokkur isn't the biggest geyser, there is another one that at the moment is dormant, named Geysir. For several decades it was absolutely dormant, though in 2000, due an earthquake, it woke up again, but not for long, and went back to its long nap… Maybe soon will come back again, with more activity. No one knows yet.
Gullfoss Waterfalls
Most likely one of the most known places in the Golden Circle, the Gullfoss Waterfalls is a place that must be in your To Visit List! And it really doesn't matter if you visit it during Winter, like myself, or during Summer. Comparing the photos of this place in both seasons, it's like two completely distinct waterfalls. Such a difference I am strongly considering to visit it again but during Summer.
When you travel around Iceland for a few days, you start noticing a few patterns in the names, for example, the suffix "foss" is one of them. All waterfalls have this suffix, but why? Well, the answer couldn't be more obvious, "foss" in Icelandic means waterfall. Therefore, a rough direct translation of "Gullfoss" would be Golden Waterfall.
Gullfoss is a waterfall in two levels, and the lower level has the shape of a triangle. Maybe this is one of the most impressive parts, as it isn't something usual. The waterfall is named as Golden Waterfall because in sunny days the water reflects a brown-golden color, this because most of this water is glacial water, and it carries loads of sediments along the stream. Another interesting fact about Gullfoss is that it is the waterfall in Europe with bigger flow of water, with an average of 1400 m³ per second in Summer, but "only" 80 m³ per second during Winter, and "only" because of the low temperatures and that a lot of water freezes before reaching the waterfall.
Crater Lake Kerið
Kerið  crater isn't that famous as the other places mentioned above, and to be honest I only did stop there because I saw signs indicating that it was a touristic stop. One of the mistakes I often make is not to research before my trips, but at the same time, one of the advantages of not researching is having the pleasure of being amazed by places like this one. I haven't heard about it before, and it ended up being a really pleasant surprise!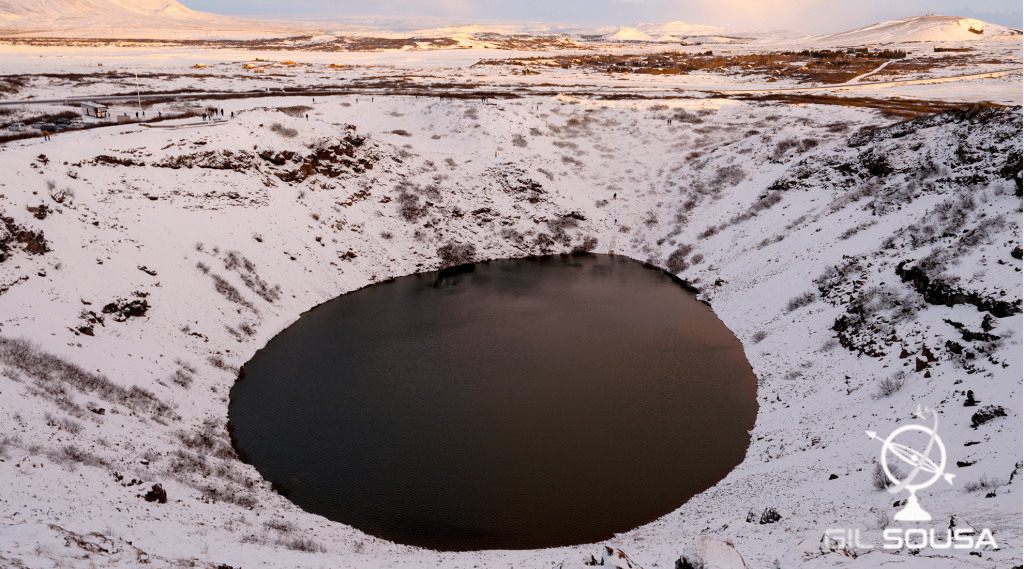 And this is another of those places that when you compare photos taken in Summer and in Winter, it looks like two completely different places! I did hike around the top of the crater, but since it was during Winter, I have to mention that you really need wind-proof clothing… I suffered a bit with the cold, and there were times that I only could think about getting out of that place, even if the view was absolutely mesmerizing.
You can also go down to the lake, but be careful with the ice, it isn't that easy to stay on your foot… And by the way, this is one of the very few places along the Golden Circle where you have to pay to visit. As far as I could get, most of the well-known touristic spots in Iceland are in private property. Even Gullfoss was in a private property until a few decades ago, and it was almost converted into a hydroelectric station. So don't be surprised if you are being charged to visit some touristic spots, they aren't public. Always keep that in mind.
Where to stay in the Golden Circle
Since I visited Iceland during Winter, I thought I should try to enjoy as much as possible the few hours of sunlight. Sunrise was around 10 am, and around 4 pm the sun was already setting down. Therefore, I decided to book a room in Selfoss, a town already in the Golden Circle. I didn't even had to pass by Reykjavik, I visited the most important places and I went back to Selfoss for another night. And with this, I enjoyed as much as possible the view hours of sunlight I had available.
Where is the Golden Circle?
The Golden Circle is really close to Reykjavik, so close some people do an one-day tour staying in the capital. But there those who prefer to explore it in a more paced way, and personally I think it is way better to do it in two days, with maybe staying overnight somewhere along the way.
Above you can find a map with some of the most known places in the Golden Circle.