The Emerald Island, also known as Ireland (or maybe it is the other way around?), which is right next to Great Britain. In this island there are two countries, the Republic of Ireland and Northern Ireland, which is part of the United Kingdom. It is a gorgeous island with loads breathtaking places, and with a lot of green, or wouldn't that be that the main reason why it is known as Emerald Island!
In this article I will list 25 places that are well worth a visit in Ireland, the whole island! Excellent for those who are planning a road trip in Ireland and are looking for tips of what to visit!
Dublin
Starting at the capital, the main destination for those who visit Ireland. Dublin is without a doubt a city that deserves to be visited, filled with history and invasions, from vikings to the English, and since ever considered as an important city.
There's a lot to visit in Dublin, and for all tastes and ages. The Temple Bar zone is the most well-known among the visitors, it is like the city's cultural district and one of the most central districts too. From this neighborhood you can walk to almost all the main places in Dublin. From my list of recommendations, the Kilmainham Gaol jail is definitely a place not to miss. The Guinness Storehouse is also high on my list, though a bit pricy to get in…
Since it is Ireland's capital, there is a lot of offer to do and see. Several museums, many many churches, and a lot to walk around. One of my favorite museums is Dublinia, which will take you on a time travel to Medieval Dublin and the Vikings period. And to relax, why not spending an afternoon in the largest urban park in Europe? The Phoenix Park?
Howth
Heading north, why not a short stop at a fishing town on a peninsula?
Howth is still in Dublin county, on the last stop of the DART train station (Dublin's urban train), and it is a great escape for a day trip for a few hikes and to enjoy a bit of country side right next to the city.
The peninsula is one of the first views of Ireland for those who land in Dublin, it gets amazing right from above. The easy access and the proximity with Dublin is what makes this place so perfect for those who want to start feeling a bit of real Ireland but don't have that much time to explore.
Boyne Valley
The trip keeps going north, this list of places is organized in a way that you can plan a trip around Ireland and go back to Dublin. This new place that I suggest is the complex of pre-historic monuments most important in Ireland, and it is in county Meath. It is older than Stonehenge and the Giza Pyramids.
One of the most amazing things about these millenary monuments is the knowledge and precision they had back then to create something so precise. Newgrange is famous for the Winter solstice, the shortest day of the year, and in that day the sunlight goes through the main door to illuminate the inside of the monument. Alike Newgrange, there are several other millenary monuments that use/used these knowledge. For me this is all so fascinating, in a time where they didn't even have a writing system in place, and still they had such a scientific knowledge.
But if you will only visit the Newgrange you will miss a lot in the are. At the Visitor Center you can purchase a multi-site ticket for both those sites. Being the other one a bit less internationally known, but in my opinion, way more interesting. Knowth, where in just one site you can thing a third of all European megalithic art. It is a really impressive place, which I highly recommend if you intend to visit the Boyne Valley.
Belfast
And crossing the boarder into another country, but staying on the same island! A visit to the capital of Northern Ireland! It chances the currency, also a few traffic signs, mostly the speed ones. In the United Kingdom they still use the imperial system for distances, therefore, if you see speed limit of 30, it isn't 30 km per hour. But also don't take your chances…
Belfast is placed in a quite interesting geographic location. In theory has its own county, like Double, though it is considered by most as a city with a foot in two counties. Antrim and Down. The history of Belfast goes behind the county division, but also on the division of religions and national identity. It is one of Northern Ireland's issues of their very recent history. Visiting Belfast without trying to learn a bit about the troubles (like they call it), it is almost like not even getting to know the city.
With this short introduction, my main suggestion for Belfast is to take a tour on a black taxi. Where the driver will show you the areas where the confrontations between protestants and catholics happened, and from the driver's perspective. I did this tour twice, and I had two quite different experiences. But my final opinion stayed the same, things seem to be leaning towards more peaceful times. Mostly because younger generations are more receptive to religious differences. It was without a doubt two experiences that I really appreciated, and that I highly recommend.
Dark Hedges
For those who love the Game of Thrones TV show, I am sure you already heard about this place. The Dark Hedges is a small avenue of beech trees in Antrim county, of which treetops create a kind of tunnel towards the mansion called Gracehill House. When you visit this street, keep in mind that the motorized traffic is forbidden. Most tourists don't even notice the traffic sign, but the police is often around. Park your car at one of the entrances, and then try to take your photos without many people (mission impossible), and then you must return using the same way.
The site is quite interesting, with a mystical mood. But due it's popularity, it can also be quite a deception. Often big groups of tourists visit the avenue, so if you want a photo without people, you must wake up quite early on a summer day!
Giant's Causeway
Arriving at the most northern point of this trip, and still in Antrim county, one of the most amazing natural sites of the island. The Giant's Causeway! The Giant's Causeway is an area of about 40 thousand prismatic basalt columns. With the hexagonal shape, they fit (naturally) in a way that resembles a causeway.
The view is quite impressive, and it lead to a few takes that nowadays are part of the experience for those who visit the site. Right when you arrive you encounter the Visitor Center where you can learn a lot about the geological formation and about the local tales.
Londonderry / Derry
Not too far from the previous stop, we arrive at the border city with two names, but just one official. I visited this city a while ago, and I have to admit I knew very few about it's history. And even less about it's very complicated and recent history.
If going to Belfast and not doing the Black Taxi tour is an incomplete experience, going to Derry/Londonderry and not visiting the Bogside district is almost like not even visiting the city. It was in this district where several conflicts happened between catholics and protestants, and even today you can see the graffitis from those times that branded the separation.
Slieve League
Of all the places in this list, I haven't visited only Slieve League and Sligo. Though these are quite popular recommendations when I ask where to go or if I just search about places to visit. And from the photos, it seems like it is a place that should definitely be visited!
Un update about the previous paragraph, I've been to both these places already! And Slieve League is indeed impressive. No photo does its justice, it is breathtaking and totally worth a nice hike!
Ireland is quite well-known for the cliffs by the sea, and for the constant green scenery. Slieve League is a mix of both, it is a mountainous area in the north of the island with cliffs that can reach 3 times the hight of the most famous cliffs in Ireland (which I listed below). It is an excellent area for those who love nature, at the most up-north county in Ireland, Donegal.
Sligo
The first time that comes to my mind when I think about Sligo is the famous Benbulbin mountain, also known as Ben Bulben. But it is still a place on my to-visit list since I arrived in Ireland. And yes, it is about time to go there!
The city is the second biggest of the west coast of the Republic of Ireland, right after Galway. It is easy to get there, with almost direct connections from Dublin. Both by car and train. The city is also part of the Wild Atlantic Way, a route that many tourists enjoy, alike many other sites on that list. It is a great place for a road trip, either following this route I am suggesting, or the Wild Atlantic Way.
Connemara
One of Ireland's crown jewels (Ireland is a republic…), is the Connemara National Park and the area all around it, it is something amazing! Some of the most photographed areas in Ireland are here, like the Kylemore Abbey.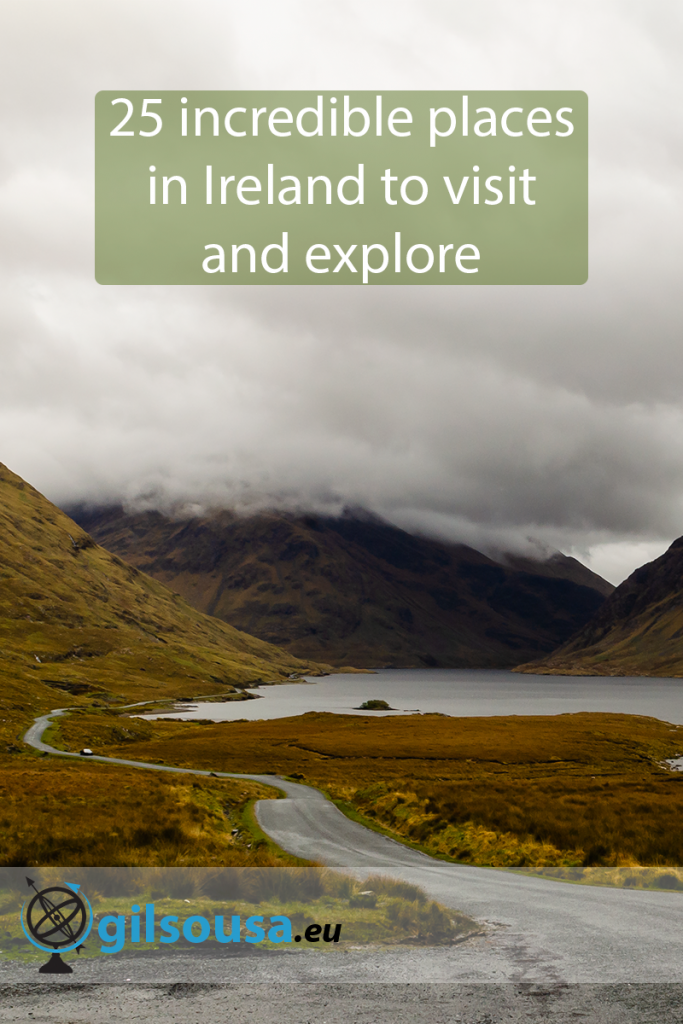 Connemara is already part of Galway county, right above this city. You can use the city as a base, or simply stay at any homestay in the middle of the countryside to experience the area from up-close. I prefer the second option! To wake up already in the middle of Nature!
Galway
The second largest city in the west of Ireland, and one of the most beautiful ones (in my opinion). With a really small city center but quite cosy, and right next to the sea towards the Aran Islands (I am not sure if one can see them from Galway). The city is quite popular during the first weekend of August, when the horse races take place. It is an event that chances the whole city's atmosphere.
For those who don't like to jump from place to place, Galway is a great place to stay overnight as a base for Connemara, the Burren National Park, the Cliffs of Moher and the Aran Islands. Everything is quite close, and there are several travel agencies that organize excursions to all of those places departing from the city.
The Burren National Park
The Burren National Park is something just unreal, completely different from what you would expect in Ireland. Green? Which green? The dominant color is grey! But don't let this put you off, it is an incredible place. It is a National Park for a good reason. It is a very special area.
I have only been there during Winter, but I still want to go back during Spring or beginning of Summer, to see how bloomy the park is. It is a very rocky park, with a famous dolmen, the Pounabrone dolmen, but with a huge biodiversity. One of the sites I enjoyed the most to visit was a perfumery, that use flowers native from the park. The National Park is already in county Clare, though, still quite close to Galway.
Cliffs of Moher
And right next to it, it's one of the most famous sites in Ireland, the Cliffs of Moher. For those who love Harry Potter, it is definitely a place to visit! You will understand once you get there!
To get there, either by car or in an excursion. It isn't that easy just using public transportation, but of course it is also possible. Alike the Burren National Park, the Cliffs of Moher are also in county Clare, which makes it quite easier to visit both sites at once. However, I highly recommend to save enough time to enjoy both these sites properly, even more if you are a Nature lover like myself, and you enjoy hiking. You will have loads of trails to walk through, in both sites.
Aran Islands
Back to Galway county, though without going back, it is time to visit one (or more) of the Aran islands. The biggest is called Inis Mór, where you can visit one pre-historic fortress and a natural rectangular shaped pool where the Red Bull takes their Red Bull Cliff Diving competition.
To get there, you can either go from Galway or Doolin, a small town near the Cliffs of Moher. And of course, either by ferry or light plane to the Inis Mór airfield.
Dingle
Back to the main island (in this case we can't say mainland…), and we will drive down a bit more until our first peninsula! In fact we already passed by a few other peninsulas, but this is the first one where I suggest a full trip.
Dingle is in county Kerry, and it is the name of both the peninsula and the small fishing town that is located in the south part of the peninsula. The town is the perfect example of an irish town, very colorful, clean and cozy. And for those who love dolphins, I highly recommend a boat excursion to meet Fungie!
Killarney National Park
Another of the crown jewels, Killarney National Park. Here you can find loads to do, mostly for those who love Nature, of course. But not only, the National Park is right next to the town with the same name, Killarney, the capital of county Kerry. As a very popular passing point, Killarney ends up being a town filled with life during all year round. It would be a great place to spend one or two nights.
One of the most well-known sites in the National Park area, and that I am quite found of, is the highest point in Ireland. Just 1 038 meters of altitude, Carrauntoohil mountain. Just keep in mind there are no roads to the top of the mountain, those who want to adventure to get there, must do it on foot! It is a hike of a few hours, and depending on the chosen route also quite challenging. I already hiked it twice and I loved it!
Another of the points of interest is the Ring of Kerry, a circular route of 179 km that pass by some really beautiful places in the south of Ireland, and of course, the Killarney National Park with a particular view to the valley Ladies View.
Gougane Barra
A slight detour from the coast, and we get to visit a small forest. Again, a place for those who love Nature. As soon you park the car yo will see a chapel on a lake, a really photographable place regardless of the weather conditions.
The hike through the mountain is quite pleasant, however they have been in a stage of reforestation since it was detected a bateria responsible to kill oak trees. Though, the hikes still have their charm.
Gougane Barra is in Cork county, and it is where the River Lee source is, the river that flows in Cork. For those who like cycling, you can follow the river to Cork city using one of the several cycling routes and cyclists-friendly roads.
Beara Peninsula
And now we arrive at one of my favorite parts in Ireland, a peninsula that shows the real Rural Ireland. A peninsula divided between two counties, part in Kerry and another part in Cork. The towns are quite sparse and small, you can really feel how remote some of those people live, and how far away from the main cities.
It is in Beara peninsula where you can find the only cable car in Ireland, that connects a small island to the rest of the country, the Dursey island. And of of the most beautiful serpentine roads in the country, if not the most beautiful one (but this is just my opinion), the Healy Pass.
Mizen Head
Mizen Head is wrongly associated as the southwestern point in Irland, though this isn't exactly correct. Quite nearby there is another head, way lesser known, but that it is really the most south point in the main island, Brow Head, also in county Cork. From my opinion, both places are worth a visit, but Mizen Head is way more well-known, and it has a lighthouse to visit.
With clear skies you can even see the rock that is actually the most southern point in the whole country, where there is just a lighthouse. It's called Fastnet, and it has a quite important historical meaning for the country. Not only because of how challenging it was to build, but also because it was the last piece of Ireland that the emigrants saw when they were escaping to the United States of America.
Kinsale
An historical site, it was stage for an important battle between the Spanish crown (in aid to the Irish rebels) against the English crown. Those who visit the town will probably will notice a few street names and local places with Spanish names, this is all because of this battle.
Besides the historical side of Kinsale, this town is also the starting point (or end point) of the Wild Atlantic Way, which goes all along the west coast of Ireland to the most-north point of the island.
Only 40km away from Cork, it is an excellent place for a day trip from the county's capital.
Cork
And we are finally in Cork city, the perfect place to use as a base to visit Kinsale and Blarney due to the proximity with these towns.
The name Cork in Irish (Corcaigh) means swamp. Long time ago the city had several canals crossing the city, which later were covered and transformed into main streets. They left only two main canals, north and south of the city center, which are the boundaries of the city center of Cork with an island in the middle.
The city has several points of interest, being the main ones the University, the English Market and the Shandon Bells Tower. It is easy to visit the main sightseeing places on foot, in fact, visiting the city by car could become a hassle instead. So it's better to leave the car parked at the hotel, and stretch your legs while you get to know the city on a slower pace.
Blarney
One of the most popular sites in Ireland is located in this small town, and it might sound odd, but it is a rock on a top of a tower…, and do you want to know something even more odd about this place? Why is this rock famous (or popular)? According to the tale, whoever kisses this rock lying upside down will be blessed with the gift of eloquence… Yes, you did read it right…
Blarney is just 15 minutes from Cork city, it is really easy to get there either by bus or by car. The town has very few to visit, being the major attraction the tower and the gardens. Even though it might sound insignificant, it is a place I highly recommend to visit, but preferably on a sunny day. As it is an experience of several hours outdoors.
Rock of Cashel
Ireland wasn't always an island with just one country, in fact, during a long time it was divided into several kingdoms. Being Munster the biggest one and the one taking the whole south of the island. The Rock of Cashel was the residence of the Munster king, in where it is nowadays the county of Tipperary.
A stop in Cashel will be ideal for those who are on their way to Dublin. It is about half way between Cork and Dublin, and you will always have the opportunity to visit another medieval country in Ireland before you head to the next destination.
Kilkenny
Those of you who like Irish beer, most likely already heard about the Kilkenny beer. However in Ireland you will find it hard to find this beer. Confusing? Maybe a bit, but in the end it is just a matter of marketing. This beer's name in Ireland is Smithwick's, but as you probably already noticed it is quite hard to pronounce it. Therefore, internationally it was renamed to Kilkenny, while in Ireland they still call it Smithwick's!
Regarding the city, it is a historical city somewhere in the middle of Ireland, more to the east. It is known mostly for its castle and for the local crafts. So much they even have craft festivals to promote their art and the city. For those who like medieval cities, parks and gardens, it is a city to be on your to-visit list!
Wicklow
And to end our trip, almost back to Dublin, we arrive at one of the most beautiful places near Dublin. But on the next county, Wicklow!
The most beautiful area, and probably even the most important, are the Wicklow Mountains. Historically speaking, there is a lot to see, from VI century monasteries, to the simple fact that we are in rebel territory where the rebels for the independence hide. One of the most visit places is the Glendalough lake, where you can visit the monasteries I mentioned before. In that area there are several well-identified hikes, and a small waterfall to see.
Almost everyone who visit Ireland want to try the famous Guinness beer, so here's a curiosity, the water used to make this beer comes from a spring in Wicklow Mountains. And why not visiting also that spring?
Our trip ends here, and then back to Dublin, with a full loop around the island passing in two countries! Have you ever been to Ireland? Which other places do you think should be on this list? Leave your suggestions in the comments section!