A long weekend in Oslo, and another country to my list, the 15th, Norway! And I already have the flights booked for the 16th and 17th! The 17th will also be my first country outside Europe!
Oslo is an amazingly expensive city! Really nice and organized, but soooo expensive! I think this is a nice introductory note, so let's start from the beginning because a trip starts the moment we wake up…, or at least when we should wake up…
On the way to Oslo from Cork
Our flight was scheduled to 9.25, or something more or less like that, from Dublin. So, we had to wake up early to drive there and we agreed to start our trip at 5am. Well, I was late because I let myself fall asleep (again), but I wasn't the main reason why we started our trip later…, the car was broken! What an amazing start, having to catch a flight 300kms away from Cork and our only mean of transport was broken! The driver's brother managed to help us with that, and we had to head really fast to Dublin! No time to stop not even…, to pee…
We arrived at Dublin Airport really close to the gate's closing time! Trying to find a place to park, after pre-paying the park, and then running like crazy to the check-in area! Passing through security was also challenging, my ticket's bar code wasn't being recognized by the scanner, and I was really getting nuts! Time time time!!! We had to run to the gate, and guess what? The flight was delayed…, nice…
Then the flight itself, was also quite interesting and quite disturbing. Maybe before this part I should talk about another trip I had recently, but I didn't write on my blog.
A few weeks ago I had to flight to Portugal, for reasons that I don't want to write here, and the returning to Cork was quite interesting. The plane was landing, and I already could see my house, when the plane started to go up again! Back to the clouds! Was quite strange, everyone was looking to each other, until the pilot said that because of the wind we had to wait around 10 minutes before trying to land again. The second try was successful, but with a lot of turbulence, and a woman on my row just fainted! Guess what? When the plane landed, we had to wait for the paramedics…
This didn't happen this time…, but wasn't better either! A woman on my row, again, was the whole flight crying and shaking because, apparently because she was afraid of flying but I really don't believe it…, wherever, she was REALLY annoying!!! But then…, she had very good reasons to avoid flying…, the landing was the worst I have ever had! The plane kinda of jumped upon the first impact on the track, not the smoothest landings…, not at all…
After 45m by bus from the airport to Oslo city, we had to meet with our host. We used airbnb instead of couchsurfing or hostel, in this case was way more private than any other option and way safer! Well, I was saying…, we had the wrong number, an "extra" 1 which was easily identified and solved, but we only got it when we were at the expected meeting point! It was kind of funny, because I heard the whole phone call from both sides, our host was close to us but we didn't know who he was…, I got it when I heard him replying to my phone.
The next steps were quite straight forward, visiting the house (and the cats living there), some basic shopping for breakfast (and extremely expensive), and then starting our tour! First stop, tourist office! And that's when I got my new nickname…, TomTom, I was never good following a GPS device, but old school maps never let me down!
After buying our Oslo Pass, we could really start our tour in a very relax mode! Nothing important to do, just enjoying our time over there! So we headed to the Opera House, some walking and night sightseeing, some time to process my internal GPS to find the easiest way to the Ice Bar and there we went! The Ice Bar is really nice, and expectedly cold! Even the drink glasses are made of ice, we could felt it melting on our lips, and to grab it we had to wear gloves! Really nice!
After the Ice Bar, we tried to find another pub, but we ended in a different one on a balcony, really nice one but also could…, this time because it was really cold outside… Alcohol is really expensive in Norway, and it was kind of hard to pay around 13€ for a pint…, but well, we were there to enjoy!
A small, but very important, detail about this trip…, I carried a teddy bear with me to Oslo and I took photos of him everywhere! Every single touristic spot, or nice landscape the teddy bear was there! Why the teddy bear? Let's say that's a private joke 🙂 And that I am not ashamed to carry with me a teddy bear and take photos of him even inside a pub 😀
Second day for museums
This one had a funny start, time changing due the DST, we were awaken by our friend and she said that was already 10 past 10…, damn…, we were late…, we toke a fast shower, fast breakfast and when we just finished it I looked at my iPhone and the time was exactly 10 past 10! So, basically we virtually didn't spend anytime at all!
That day was planned to be the Museums' Day, first was the Norsk Folkemuseum which, in my opinion, was a too fast visit but to do everything we had planned it had to be that way. Then was the Viking Ship Museum, quite small but totally worth to visit! There you can see one of the Norwegian's icons (if not THE one), and I have to say that I was impressed with that, it's truly a magnificent ship (and others in bad shape)! Teddy bear was here, by the way!
Then we walked a bit to the next and last two museums we visited, and the ones that made me dream and still dreaming about traveling! The Kon Tiki Museum, and this was REALLY impressive! The museum itself is nothing special, ok, it's really impressive but not the kind of stuff you are waiting for when you go to a museum, but the story of it…, oh gosh, it's really amazing! I'd love to write about it here, and probably I will soon in a different blog post, but the best is to go there and see for yourselves, it's really amazing!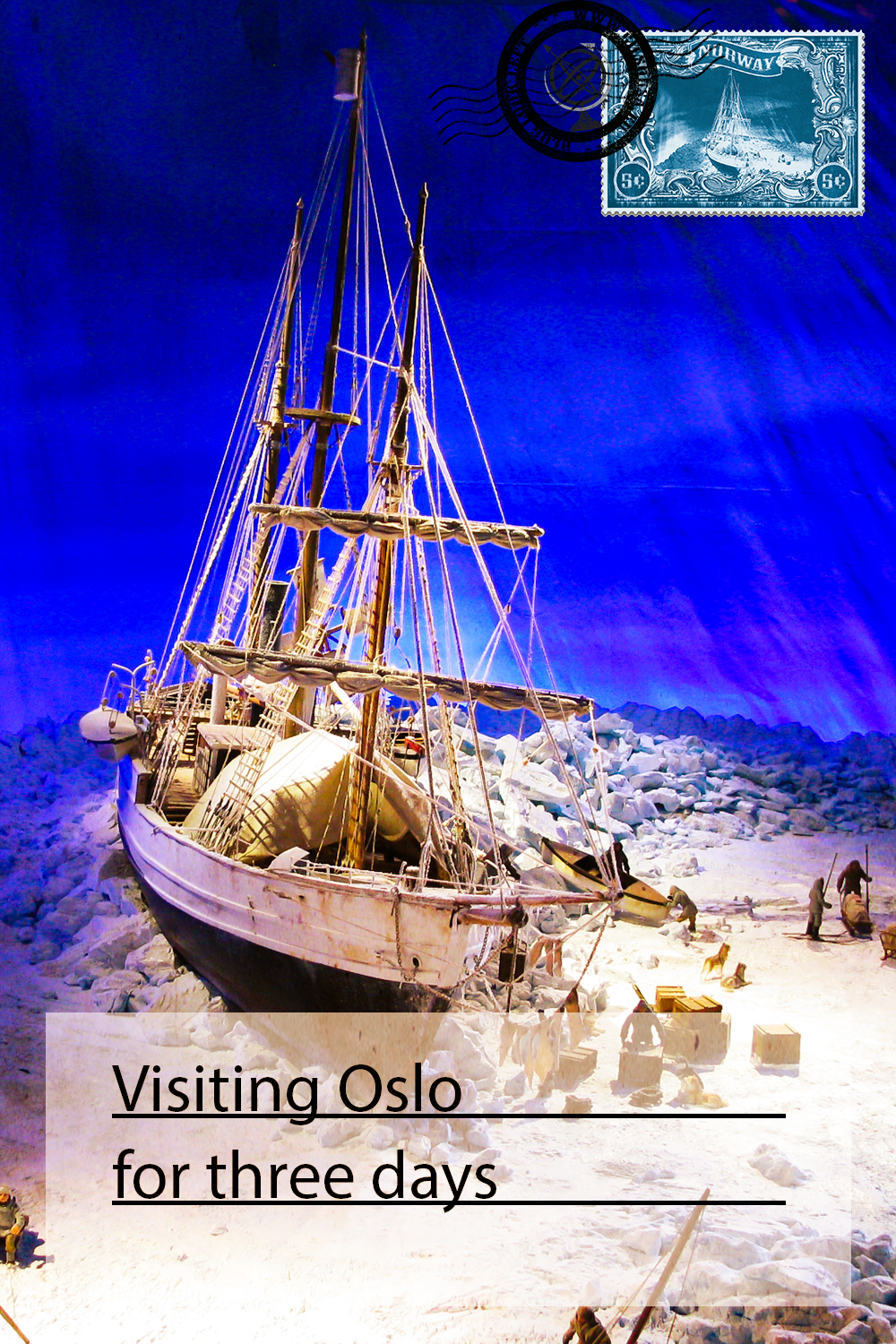 Next to the Kon Tiki museum is the Fram Museum, this one was my choice and I had just an idea of what I should expect, however it totally blew my mind as well! These norwegian guys are totally nuts! And thinking that I am portuguese and that for some reason I might have some adventurers blood running on my veins, this is really way more than I was expecting! Here the story it is a blast, but the ship itself, where you can visit from inside and you really see its majesty a few centimeters from you and that you look up and you only see the hull, it's really impressive! Another museum that I really recommend to visit! With the Oslo Pass you can get it all for free, and please do it!
After the museums, we headed home but I ended stopping at the Vigeland Park, here was time for a little bit of fresh air, fun and more creepy photos to the Teddy Bear…, some people really looked at me with that odd thought of "What the hell is he doing with that?? Is he mental??" Well…, I might be!
After the cultural day, time for the chill out night! One of us had a list of pubs to visit, and therefore we headed to one of them…, which happened to be closed. Sundays…, I think that's kinda of expected. Funny thing, someone tried to rob me…, maybe that wasn't that funny after all, but in a few minutes after I was waiting for a great dinner, with an expected visit… A guy, norwegian I believe, just joined us at our table. The guy started to speak in a language that wasn't familiar to us, most probably norwegian, I think that guy was a freeloader trying to get a cheaper meal or even free…, no luck, Oslo is too expensive to be nice…
After the dinner, we headed to a second pub which happened to be… also closed… We ended in another pub just for a pint or two, and then home. Huge day, everyone was really tired.
A few more hours in Oslo before going back to Ireland…
… and the last day… Pity, Oslo is really nice. Since we had a very short day, we decided to do the islands trip, and since the Oslo Pass doesn't allow free rides with the touristic boats…, we did our free tour with ferries! The small isles next to Oslo, about two 45 minute trips to visit those isles without leaving the ferry. However, was the day that I shot more photos. And again, creepy photos with Teddy bear…
Back to the inland, we enjoyed the very few hours left in Oslo, we crossed a park on our way home, we packed and we left to the airport. The flight was again quite interesting, Halloween night with sound effects done by one guy of the crew. Crazy people…
Back in Ireland, time to check if the car was could start, which after some prayers started to work at first try! And back to Cork, where I fall asleep in a few minutes and where, apparently, the driver was so tired she had to stop several times… Shame on me, but I barely noticed whatsoever…
PS: After several days upon our trip, the driver (which had that awful start with the car), finally managed to get her iPhone work again after a "phone-bath" minutes before the problem with the car! That first day was really tough for her, but everything ended well.
Where is Oslo?
Oslo is the capital of Norway, and it is in the south side of the country, close to the border with Sweden.
GuardarGuardarGuardarGuardar