Kinkaku-ji, the Golden Temple
Kinkaku-ji Temple, also known as the Golden Temple, the temple was initially a villa until one of his owners passed away and by his wish it was then transformed into a Zen Temple. The temple that we can see nowadays is a reconstruction of the original temple, that in 1950 was burned down by a novice monk.
To get there, the best way is by bus, Kyoto bus system is really well-organized and quite easy to use, with a daily pass it might even be the best way of transportation inside the city. Kinkaku-ji it is by the edge of the city borders, but there are more sightseeing around for those that don't want to go there just because of this temple. Though, I dare to say that it is a must see, a bit overpriced, but still, a place that should be visited. A pity it was raining, I couldn't enjoy properly my time there, even though I had a very nice walk through its gardens which are also fantastic!
There was a lot still to see, but I wasted a lot of time trying to get to the temples I visited, and to play safe I decided to go back to Kyoto Station and book my ticket back to Tokyo, which I was more than glad to find out that it was the wise thing to do, the train was close to get fully booked already. And again, another stop at Starbucks (I swear I am not promoting this company!!), where I wrote a few more postcards and a few more notes for my blog posts.
Wet, tired and hungry, and getting dark! I decided to go back to Gion, for a night walk and get to eat something. While waiting for the bus, I met three Indian girls that seemed even more lost than I was, we chat a bit and we realized we were towards the same direction, we hop off in different stops but by chance we ended up meeting each other again later that night while walking around. Oh, I felt like a tourist wandering among other tourists.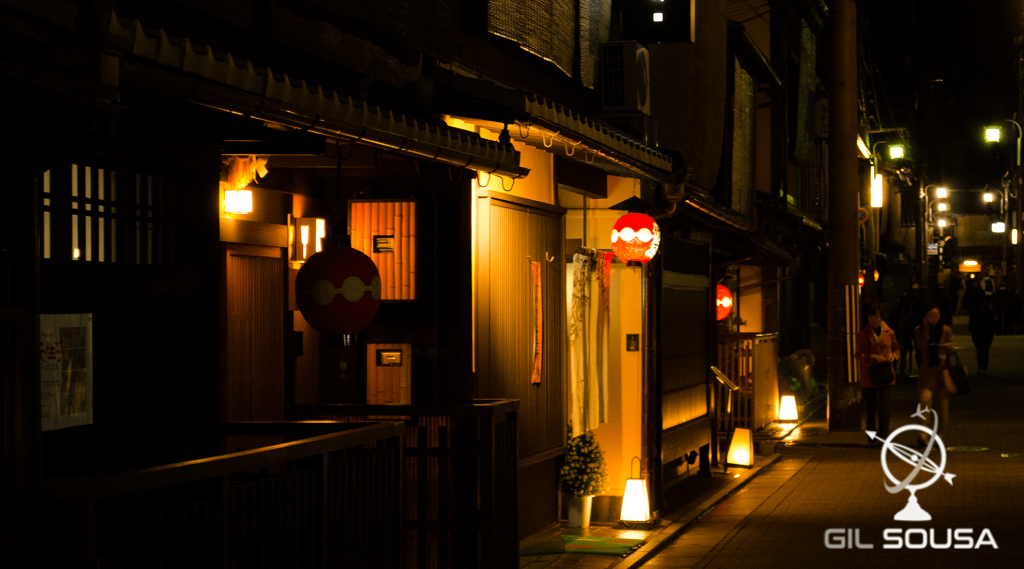 And still hungry, time for some food! I kept walking around Gion district trying to find a nice restaurant, but then I crossed the bridge and I went to the Food Market Street. When I was getting there I decided to keep walking around and try a restaurant instead for a change. I got lost, which was awesome, and was getting even more hungry, my pickiness to find a restaurant was slowly vanishing… I found a Portuguese wine bar, and honestly I felt very tempted to get inside, but my traveler-sense mandated otherwise. I was in Japan… A few meters ahead I found the restaurant for me, by the river with a nice view and I again I was just one! I sat at the counter next to a couple.
My dinner was more Japanese, I think, I ordered a hot sake and some other stuff. As a side dish, I got my first green soy beans! Actually, it is really good, though, it was the first time I was eating that and I just didn't know how to eat it so I ate the full string bean until I realized that the empty bowl could be for the string beans… Yeah, it tastes WAYYYY better just the soy bean 😛 In the end, I paid less than 20€, really good food, drinks and not expensive at all.
When I travel alone I am also more relaxed with strangers, I didn't reach yet the point of starting random conversations, but I don't mind to pull one or two chats. The couple next to me were trying to take a selfie, I thought I could be nice and help them with their people/food/photo task 🙂 I am used to different accents and languages, but I honestly got confused with both, she sounded totally German and I managed to understand a few things, the guy sounded totally like Dutch or probably just a very strong german accent, but when they talked with me was in total American accent! It was interesting to hear 🙂
After having my food and paying, I decided to head to the hostel, I would have to wake up early the next morning again, and who did I find again just right I left the restaurant? The Indian girls! Three times the same night, in such a huge city! Oh tourists, we are like ants, following the same paths…
Where is the Kinkaku-ji Temple?