After several years living in Ireland, there are a few places where I simply love to "re-visit". Recently I took a friend to visit the Ring of Kerry and Dingle areas, and this time it was time to show counties Clare and south of Galway to another friend. The Cliffs of Moher are some cliffs that look like a saw in the West coast of Ireland. And also one of the most visit places in Ireland, maybe even only after Dublin. This area was finalist as a candidate to the New 7 Wonders of Nature, however it didn't make it to the top 7. Even though, it's a place that was already featured in some movies, like the Harry Potter.
Note: This is the translation of an old article. The style used and opinions might differ from more recent articles.
Hiking at the Cliffs of Moher
And another place to visit in in Ireland! This country has really amazing landscapes, and today we went to one of the candidates for the 7 Wonders of Nature, the Cliffs of Moher!
This is starting to be scary, once again my huge luck is surprising me and those around me…, we planed to go to the Cliffs of Moher during last week, a great sunny week (for irish standards)…, however everything has to end and also the good weather. Today we started our trip around 9am, a rainy day was ahead and as everything in Ireland we shouldn't postpone this trip because the weather will always be unpredictable. Ok, let's go! Cliffs of Moher!
Rain, rain, rain all the way…, and I was all the way barging about my huge luck and that we would have a great sunny day at the Cliffs… But before the cliffs, we had to make a stop for gas and food (fast breakfast) were we met an American guy hitch hiking also to the Cliffs. He asked us for a ride, but we were already 3 and a dog…, so we said no. But on the car we decided "let's help the guy"…, we has already gone.Pity….
Back to the road…, rain, rain and more rain…, oh wait…, some sunshine… now some real sun and just cloudy…, oh there's the cliffs and a blue sky!! Yep, it happened again!
The cliffs are great, but to be honest nothing that surprising. Just some cliffs, quite high though, but nothing too impressive. In my humble opinion there are way more impressive things in Ireland, but I still think it's worth the trip!
The path is quite easy to do, always close to the scarps but nothing too challenging. We had a situation with some cows and Kaja (the dog that was with us), which forced us to run a little bit close to the edge (that was funny…) and tens of photos! We didn't go until the end, after a while we decided to go back and go for some food, after all we didn't have any lunch and it was already almost 4pm. And when we decided to go back…, who did we find in the cliffs?? The american guy that asked for a ride!
Apparently today someone died (or disappeared) in the cliffs, Steve (the American guy) told us that they were looking for a guy that decided to do part of the trail alone…, the typical situation that you tell your friends "I am just behind you" and that everything goes wrong… Hopefully everything is ok with the guy, we had no more news about that.
Back to the car, which we paid 18 euros for parking… tip for those driving there: Do NOT go to the park with a car full of people, every each of them will pay 6 euros while nobody is checking for the tickets at the cliffs entrance!
Well, we gave a ride to the american guy to a town which I don't remember the name, but before that we stop for "lunch/dinner". While there, he asked us if he could go with us all the way to Cork! Well, no trouble at all! And the guy has an amazing life-story, it is always great to meet new people even better when they are such unique!
The way back wasn't that exciting, some stops for photo shooting to the sunset, and nothing more than that, just that Steve might be now camping at the University College Cork's campus. Good luck with that!
Visiting the Cliffs of Moher in Winter
This was the third time I visited these cliffs (or maybe it was the fourth?). And I wanted a reason to get out of Cork, therefore I decided to surprise a friend of mine, that I knew he wanted to visit it. And I wanted to visit the Burren National Park, which is right next to it. Why not doing both, since we both wanted to visit the same area?
Sometimes surprises don't end well, but I still enjoy trying to surprise those who I like. And a friend of ours told me he wanted to visit this area, so without giving too many details, I invited him to spend a weekend with me and explore a bit of Ireland. Regarding new places, we have quite the same opinion, we just love to visit something new. So it was easy to go from an invitation to a plan!
I drove towards northwest, and only about 20 or 30 kms from our destination that's when he say for the first time the indications for the Cliffs of Moher. I could keep the surprise for a bit longer, but after a tiny detour to Lahinch, I couldn't hold it and I confirmed his suspicions.
Lahinch is a costal town well-known among the surfers, and it is quite close to the Cliffs of Moher. Some people actually start a walk to the cliffs from this town, starting at the beach and going up the hill following the cliffs through all those less recommended areas. Even though this is in Ireland, the beach is really beautiful…, and in those rare days of sunshine you can even enjoy it!
From Lahinch to the cliffs it's just a few kilometers, if I am not mistaken about 10, and then there you just need to find a place to park your car. And regarding the parking, here's a tip, if you want to save some money, leave your passengers at the visitor center, and then park the car. The parking is priced according to the number of passengers (6€ per person).
Once we arrived at the parking area I noticed the sky was slightly overcast, but one could perfectly see the cliffs. I parked the car, and in those 5 minutes (or even less) walk from the car park to the visitor center, a cloud simply covered everything that was interesting to see. While my friend was completely amazed by the surprise, and didn't even care about the cloud, I was completely annoyed! Really frustrated, it was almost like if it was done on purpose. Everything so clear and in a matter of minutes, all covered… I actually regret not taking a photo with all that fog, I think it would end up being a nice misty photo.
We entered the visitor center, and we stayed inside not even for 5 minutes, I only went to the toilet, once we got out the fog was gone! Everything absolutely clear! We went straight to the cliffs to enjoy those moments! The weather was okay, no rain but quite windy. We walked around the safe area and we didn't ventured pass that as it was quite muddy as well. Several people went beyond the "touristic" area, which isn't protected. Though, that's the most interesting part of the walk, unfortunately. But accidents happen, and every now and then they have search parties looking for people, I already stumbled into one once…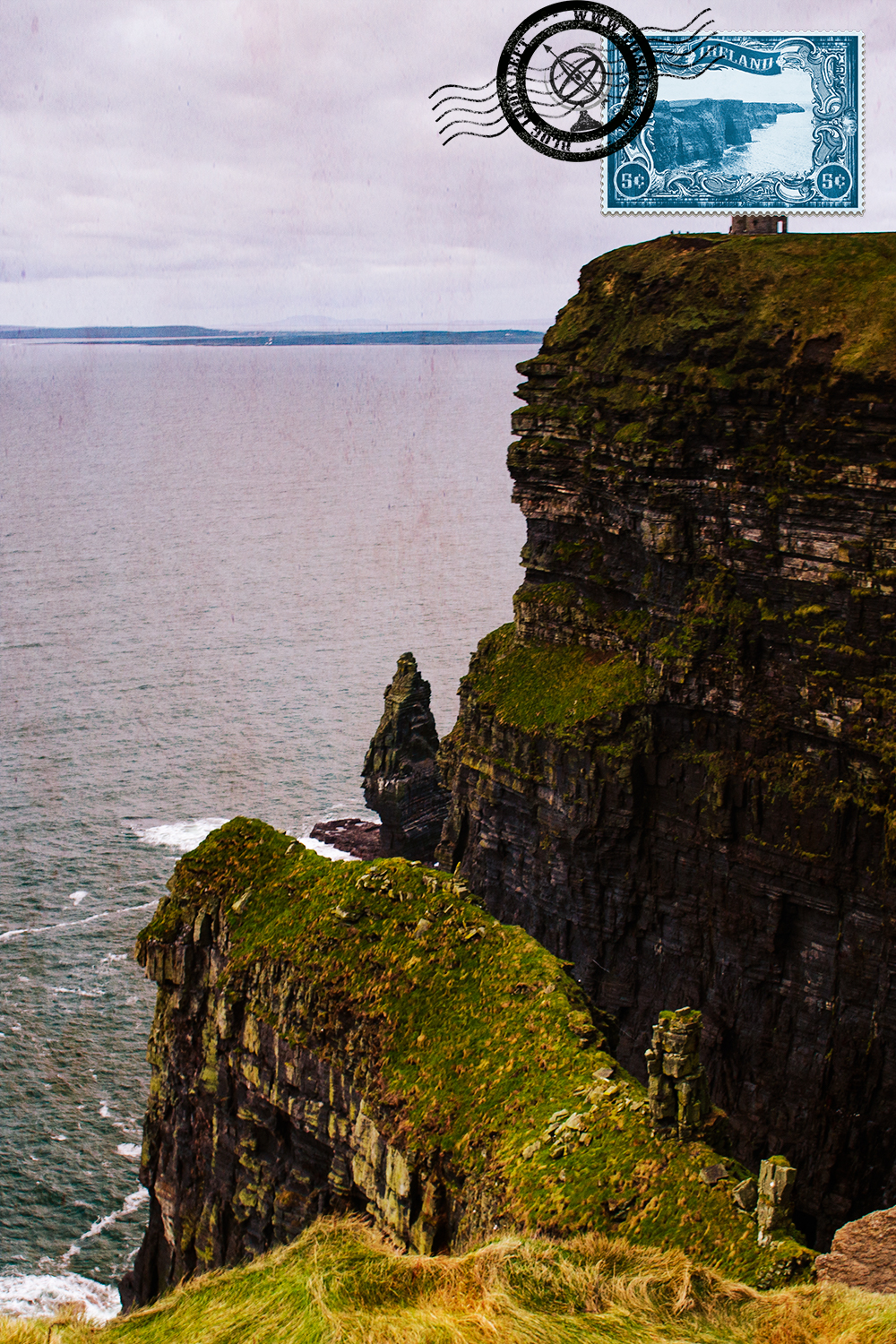 The non-protected path is always by the edge of the cliff, with some wider parts with a lot of space (and supposedly safer), and other quite narrow parts with about a meter from the cliff. It can be intimidating, from one side a cliff…, from the other side…. cows. Yep, the non-protected area is right next to a fence of a field with cows, so be mindful and don't tease them.
We also went to the O'Brien Tower, the highest point of the Cliffs of Moher. Though unfortunately it was closed so we couldn't even get inside. But the view from up there is equally amazing. Since we arrived at the end of the day, we were blessed with an amazing sky with blue tones, almost merging with the sea. Gorgeous.
From there, we went straight to our B&B near Gort, which I booked thinking that was closer than it actually was. We still drove for over an hour to get there, with some adventures on the way, which will be reserved for another article!